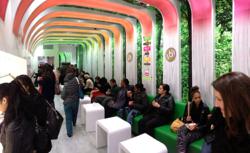 It's the first day of winter, a damp cold has settled over the city, and we should all be thinking of the toddies, hot buttered rum and mulled wine that we'll sip when we get off work. But The Observer is thinking of another substance, a substance that chills us to the bone, a substance that is neither breakfast, lunch, dinner nor dessert. We are thinking of frozen yogurt.
Since we penned our angry screed, The Observer couldn't help but notice, in the way that one can't help but notice one's enemy advancing, that Manhattan has been cursed with not one, but two new frozen yogurt shops. And these come at a time when we are swathed in wool, singing Christmas carols and knocking into strangers at the Bryant Park ice rink. Just imagine how many relentlessly perky health food poseurs will flood our city come spring.
Of course, they're both chains. And of course, they're both downtown.
Last Saturday, just in time for the holidays, 16 Handles opened a flagship in Soho. It already had eight stores in the Manhattan. This will be ninth. Because we needed more fro-yo joints here. The interiors, are of course, a marvel of gleaming fluorescence.
What makes this fro-yo bar the flagship? Well, like all the other 16 Handles, this one will also have 16 rotating flavors and a fully loaded toppings bar, according to the release (as opposed to those locations with a limited, thoroughly picked over toppings bar?) as well as two 18-inch media players (that way you don't have to interact with any of your fro-yo loving friends) and a party room that can be reserved for social functions (we don't even want to think about those social functions).
Founder and CE-YO! (their words, not ours) Solomon Choi writes in the press release that the company picked Soho because it is "one of the coolest, most fashion-forward places on earth."
"We're excited to open our new flagship store in the heart of a community that is all about flaunting their flavor through fun, fashion and froyo."
Soho. Official time of death? December 15.
But hey, at least you can get an eggnog flavored frozen yogurt.
Meanwhile, Red Mango has inked a lease for a new Chelsea franchise that will, thankfully, not be opening until the spring. And it will be taking the place of a Lens Crafters franchise, which, hard as we tried, we can't really really feel bad about. Apparently, Red Mango franchises have been having a bit of a problem making the rent in Manhattan, but the landlord/broker whom Crain's talked to feels really optimistic about this venture, especially since it's all self-serve/has really cut down on labor costs. He claims that there are no other yogurt shops in the vicinity. Really?
Best of all, the frozen yogurt shop, which will be located in a building at 55 West 25th Street, is going to be neighbors with a grilled cheese sandwich joint called Melt. It will be just like a college dining hall.
kvelsey@observer.com