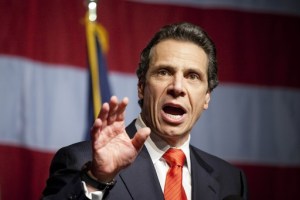 New Yorkers will now have the opportunity to nurse their New Year's Day hangovers with the Governor.
Earlier this afternoon, Governor Andrew Cuomo announced he is flinging open the doors of the executive mansion on January 1st to members of the general public, offering the rare meet-and-greet opportunity. But for those wishing to attend, Mr. Cuomo's office suggests packing light.
"Guests are reminded that weapons and controlled substances as well as bags, backpacks, luggage, parcels, briefcases, and like articles will be strictly prohibited from the event," the press release warned. "Photography and videography devices will not be allowed on the premises. Guests with prohibited articles will be turned away and no storage or 'check-in area' will be provided for such items."
Furthermore, should the event prove popular, aspiring guests will have to hope a lottery system ends up in their favor.
"Space is limited and tickets are non-transferable. In the event that the number of requests exceeds available space, attendees will be selected by lottery," the released explained. "All adults over the age of 16 who want to attend the open house must have a ticket (they're free) and individuals that receive a ticket will be allowed to bring one guest and any children from their household."
Attendees will only be allowed at at the open house from 1 to 3 p.m., however, so don't expect too much gubernatorial face-time.