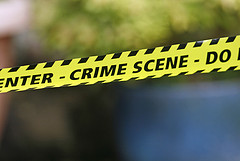 During the 9 o'clock hour on Friday morning, at least one black-clad male entered Sandy Hook Elementary, a K through 4 school in Newtown, Connecticut. Police believe he was armed with two semi-automatic handguns. He opened fire on students and faculty and, according to reports coming from major media outlets already at the scene, the shooter killed at least 27, including 18 children.
Reuters and WABC reported that the shooter was 24, carrying up to four weapons and wearing a bulletproof vest.
An Associated Press report in the Hartford Courant states that "one entire classroom was unaccounted for" as authorities attempted to determine who had survived the shooting.
The school is home to grades K through 4, with students no older than ten years of age.
Local media published photos of crying children locked hand-in-hand being led away from the school by uniformed officers and teachers with panicked expressions. In an interview with a Connecticut TV station, one of the children described how upon hearing the gunfire, students "went into a total panic." In another interview with the teen brother of a Sandy Hook student, the young man spoke of his sister hearing gunshots over the school's public announcement system.
Newtown, population 27,000, is a small, picturesque town located in western Connecticut, about 90 minutes north of New York City. In 2005, it was a contender for one of CNNMoney's "Best Places to Live" in the United States.
The gunman was reportedly dead at the scene, but early afternoon reports via CNN and MSNBC indicated another man was under arrest in connection with the massacre.
CBS News reported that a second body was found in the gunman's home.
This is a developing story, updates will be added to this post as needed.
Update, 2:12 p.m. CNN reports that the deceased gunman was named Ryan Lanza, of Newtown and also Hoboken, New Jersey. NBC indicates the dead body found in his home may be one of his parents.
Update, 2:20 p.m.  Moments after his name was reported Ryan Lanza's apparent Facebook profile was being widely shared over social media, including via Slate's Twitter feed.
Update, 2:29 p.m. Here is video that appears to be of the alleged shooter, Ryan Lanza, discussing The Daily Show while a student at Quinnipiac. Mr. Lanza also appears to have been quoted in a Quinnipiac student newspaper article from 2006 about love and relationships. "I prefer relationships," he said. "That's just how I roll."
Update, 2:35 p.m. Reports are now flying on Twitter that the Facebook profile that was widely circulated is not of the alleged shooter, Ryan Lanza. Slate has retracted their report, as has BuzzFeed. A supposed Facebook friend of Mr. Lanza's, Andrew Fletcher, posted a screenshot on Twitter showing Mr. Lanza updating his profile saying, "Everyone shut the fuck up it wasn't me."
"I had to unfriend Ryan because I was getting a ton of friend requests," tweeted Mr. Fletcher. "I won't be able to provide any further information."
There is no confirmation either way if the Facebook profile is fake or not, but Facebook users are still sharing the profile at an alarming rate.
Update, 2:47 p.m. President Obama is giving a statement at 3:15 p.m., according to New York Mag.
Update, 2:59 p.m. This story previously included a screenshoot of a Facebook profile at one point thought to be Mr. Lanza's, along with a YouTube video and a link to a newspaper article matching the personal specifics of the profile holder. These have been removed pending further investigation.
Update, 3:49 p.m. The New York Post is reporting that the shooter was actually Adam Lanza, age 20:
Adam Lanza, 20, shot his mother dead and targeted her kindergarten class at Sandy Hook Elementary School in Newtown, Conn., sources sais. Sources also told The Post that Lanza's mother was a teacher at the school and he "had a dispute with her."
Additional reports from several media outlets indicate at least two of Lanza's friends may be missing. Reuters reports that Connecticut police have identified only one shooter.