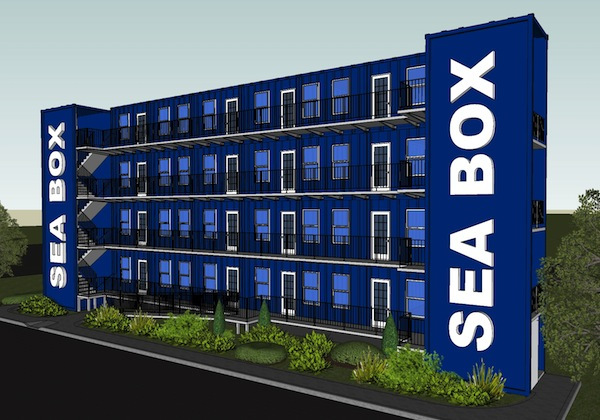 Recently, The Observer reported on a secret plan the Bloomberg administration has been developing for years now to create a disaster housing model that suits the peculiarities of city living. The city has settled on a model built on stackable shipping container apartments, but the housing remains a few years away from being deployable.
Still, some news yesterday reaffirmed the importance of the city developing its own disaster housing model, since national models may not work here, due to issues of density and open space suitable for installing the infamous FEMA trailer. Indeed, FEMA announced that it will not be setting up its own shelters in New York because there is not enough room, as WNYC reports.
Volunteers helping to reconstruct homes in the Rockaways and Staten Island have argued that trailers or other structures would help storm victims there achieve one goal: staying close to their homes to oversee repairs. But FEMA says there is not enough commercial property nearby where temporary housing could be set up.

"There aren't alot of pieces of property that are outside of the flood plain, close to where the impacted people are," Federal Coordinating Officer Michael Byrne said.

Instead, the main way the government plans to house storm victims is by providing financial assistance so that victims can rent a new home. Byrne said FEMA has determined that enough vacant apartments are located within 5 to 10 miles of the affected areas to meet the demand for housing. The city also recently convinced several affordable housing landlords to set aside about 2,500 apartments for storm victims, though many are in distant areas such as the northwest Bronx. Landlords acknowledge that it could be challenging to convince people to live far away from their homes and jobs, and their children's school.
The Brooklyn Paper reports on another unusual housing model that has been, uh, floated before, but it is clear this is not a terribly realistic model either: docking some cruise ships along the harbor for people to live in damaged areas. Design and Construction Commissioner David Burney told The Observer that retrofitting and running such an operation would be too expensive, and indeed, the guy who wants to set up two ships here tells The Brooklyn Paper it would cost only $3,000 a head. For half that money, you could just go on a real cruise to the Caribbean.
Today, the mayor made official his plan to offer those affordable apartments to Sandy refugees, but they are scattered across the city.
As a cautionary tale reinforcing the needs for our own recovery model, city officials like to point to New Orleans, where many residents left for good because it was too hard for them to come home and rebuild, for one reason or another. If we cannot do that now, or in the future, many of these seaside communities could suffer the same fate. It is hard enough to find housing in New York on a good day. On a bad one, having a back-up plan to house the displaced will be crucial to coming through the next storm together.