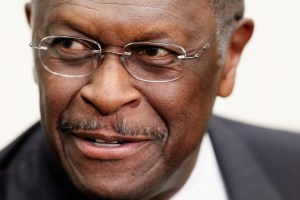 Former Republican presidential candidate blasted the New York Times on the website of his online TV network today in a column that claimed the paper put on "a white sheet and hood" by publishing an editorial that was critical of black Republicans on Wednesday. The Times article, which was written by University of Pennsylvania political science professor Adolph Reed Jr., was entitled "The Puzzle of Black Republicans" and argued "modern black Republicans have been more tokens than signs of progress."
"It's a shame the New York Times is such a racist newspaper," Mr. Cain wrote in his response.
Mr. Reed's editorial labeled conservative praise for Tim Scott's appointment as the first African-American Senator for the South since the Reconstruction era as "cheerleading over racial symbolism" that "plays to the Republicans' desperate need to woo (or at least appear to woo) minority voters." Despite this desire to court the black vote, Mr. Reed said "modern-day Republicans have deployed blacks to undermine black interests" by weakening the Department of Housing and Urban Development, the Commission on Civil Rights and the Equal Employment Opportunity Commission with African-American officials.
In his response, which was entitled "The New York Times is a Racist Newspaper," Mr. Cain criticized Mr. Reed's characterization of "black interests."
"To hear Professor Reed tell it, blacks are a monolithic group of people whose best interests are served when they can be recipients of redistributionist policies at the hands of big government," Mr. Cain wrote. "Let me simplify that for you: He thinks black people need welfare, and can't make it under the kinds of free-market policies advocated by the likes of Samuel Pierce, Clarence Pendleton, Clarence Thomas and Tim Scott. And Herman Cain."
Mr. Cain, who is African-American, accused Mr. Reed, who is also African-American, of suffering from self-hatred.
"Since Professor Reed is also a black man, I wish him well in dealing with his obvious self-loathing," wrote Mr. Cain. "But he might learn a lot if he spent a little time moving in the circles I move in. He would meet lots of highly accomplished black men and women who have pursued their dreams in the capitalist system and have done exceedingly well. They vote Republican because they understand that free-market policies open up this same kind of opportunity for others."
Mr. Cain closed out his column by blasting the Times for publishing the article, which he described as "denigrating blacks."
"Any newspaper that would publish a piece denigrating blacks as needing the benevolence of big government in order to serve their interests is obviously racist and deserves widespread censure for making such an insensitive and racially biased editorial decision," Mr. Cain wrote. "It's a shame the New York Times is such a racist newspaper."