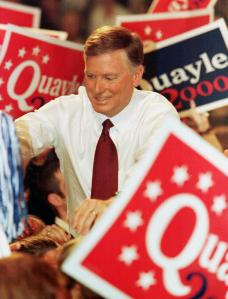 Cerberus Capital Management L.P., the private equity firm that owns the company which made Newtown killer Adam Lanza's assault rifle has extensive political connections. The company's senior executive leadership team is stocked with political figures including former Vice President Dan Quayle.

Mr. Quayle is the Chairman of Cerberus' international division, Cerberus Global Investments, and is identified on the companies website as one of its top eight executives. In 2006, Cerberus, which is headquartered in Midtown Manhattan, purchased Bushmaster Firearms, manufacturers of the AR 15 assault rifle Lanza used to kill all 26 of his victims.
Cerberus followed their purchase of Bushmaster by buying several other gunmakers including Remington Arms. These companies were later consolidated into a company called the Freedom Group that is now one
of America's largest gun manufacturers.
Cerberus has a $20 billion portfolio, but Freedom Group is no small fry. In the three months from the end of June through the end of September, Freedom Group sold $237.9 million worth of its products for a profit of $82.2 million. Sales made to Wal Mart accounted for 13 percent of Freedom Group's sales in the first nine months of this year.
In addition to Mr. Quayle, two of the other eight members of Cerberus' senior executive leadership come from the political realm. Former Treasury Secretary John Snow is Chairman of Cerberus Capital Management. Andrew Kandel, a former Manhattan Assistant District Attorney and Chief of the Investor Protection & Securities Bureau at the New York State Attorney General's Office is Cerberus Capital Management's Chief Compliance Officer, Co-General Counsel and Managing Director.
In the aftermath of the Newtown killings, much of the ensuing political debate has focused on the NRA and the lobbying arm of the gun industry. However, the lengthy political resumes of Cerberus' executive leadership clearly demonstrates the gun industry's political connections go much deeper than the NRA.
Politicker reached out to spokesmen for Cerberus to ask about their connection to the Newtown killings and Mr. Quayle's role in the company. As of this writing, we have not received a response.
Update (12/18 10:08 a.m.): Cerberus spokesman John Dillard responded to our request for comment overnight by sending us a statement announcing the firm's plans to sell Freedom Group.