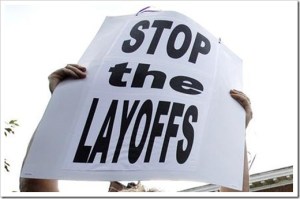 As we wait for final details of the Newsbeast staff cuts, we came across an impassioned case against layoffs that ran in the pages of Newsweek almost three years ago. The article, which was published before Tina Brown took over the magazine and merged it with her Daily Beast website, explained "our over-reliance on downsizing is killing workers, the economy–and even the bottom line."
"Layoffs are mostly bad for companies, harmful for the economy, and devastating for employees," the piece concludes. "The damage from overzealous downsizing will linger even as the economy recovers—and as it does, perhaps managers will learn from their mistakes."
However, the piece also noted the argument against layoffs doesn't apply to the media industry and went on to provide a grim forecast for the now folded magazine's future.
"If your industry is disappearing or permanently shrinking, layoffs may be necessary to adjust to the new market size, something occurring right now in newspapers," the unbylined article said. "Some troubled industries seem to be in perpetual downsizing mode; the U.S. auto industry, to take just one example, has been shedding employees consistently for decades. (Newsweek is familiar with these pressures: its head count is down significantly in recent years.)"
The article went on to note that businesses that are unable to avoid layoffs (as Newsweek was) would face an "eventual demise" (as Newsweek has).
"As for firms that have no choice but to cut jobs, if your company is the 21st-century equivalent of the proverbial buggy-whip industry, don't fool yourself—downsizing will only postpone, not prevent, your eventual demise."
Perhaps Ms. Brown and her backer Barry Diller should have read Newsweek before they got into bed with it. In this case, the call came from inside the house.