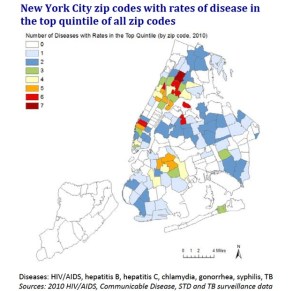 Syphilis hasn't been this popular since it killed off Henry VIII, but thanks to hordes of amorous hipsters spreading it all over Manhattan, Soho has become rife with the ulcerous stuff, according to a new report by the New York City Health Department.
Not to be outdone by their cooler downtown counterparts, Murray Hill and the Upper West Side have also secured themselves a spot in the three most infected areas, with 10 times more syphilis-ridden residents than the rest of NYC. We know that elitism still exists, but this rashy bad boy seems to have incredibly high standards—for an STD, at least.
The Health Department's new report compiled data accrued in 2010, a year that wasn't short of a sex scandal or two, with Tiger Woods, Tiki Barber and Brett Favre all playing away from home. No wonder sportsmen have a bad rep.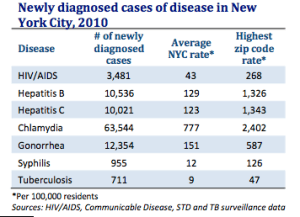 Whatever it was, now 13 of the 20 neighborhoods with the STD's highest rates are in Manhattan. The study also found that Chelsea ranked as the second most generally sexually infected part of the city.
If you're looking for a hookup that won't make your nether regions feel like the seventh circle of hell, head to Staten Island, where the syphilis rates failed to make it into the top 20. They'll need to work a lot harder at screwing up their sexual health if they want to get rid of their status as the forgotten borough.
But residents of the Bronx have been taking things to the other extreme, with the majority of neighborhoods racking up more than one STD. In fact, 68 percent of the area has multiple infections floating around the place, making it the least desirable location for a one-night stand. Tremont was named as the worst neighborhood, closely followed by Hunts Point and High Bridge, so partygoers, now you know where to avoid on your next big night out.
With syphilis enjoying its 21st-century resurgence in the posher ZIP codes, we'll be keeping our legs crossed on our next meander around Soho.