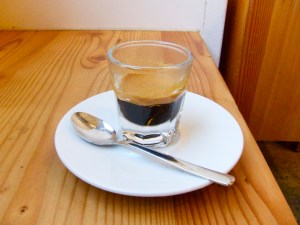 Has the moment passed? Oliver Strand, T's coffee enthusiast and writer of the 'Ristretto' blog, posted on Twitter that today's post on the V60 Drip Scale from Hario would be his last. Mr. Strand said that his editor at T, the Times luxury mag, told him that they are ending all columns for the Moment page.
Mr. Strand, who is currently working on a book about coffee (what else), has gained a loyal following in his time as the chief coffee critic at the Times. His Ristretto column coincided with the rise of New York's boutique coffee shops that roast their own beans and coffee drinkers who care. 
"There is a huge audience for writing about coffee. Some editors are aware of it and some aren't" Mr. Strand said when we reached him this afternoon, noting that his editors are in the former camp. "The audience was hungry, or, to be corny, thirsty" for coffee coverage, Mr. Strand said.
Changes at T are not unexpected. The magazine has a new editor in chief–Deborah Needleman took over from Sally Singer in September. And new leadership usually means redesign.
UPDATE: "We will be refreshing the T Magazine website – with changes to the look and content," emailed Jane Herman Bishop, T's online editor. "I'll let you know when we have more to announce."