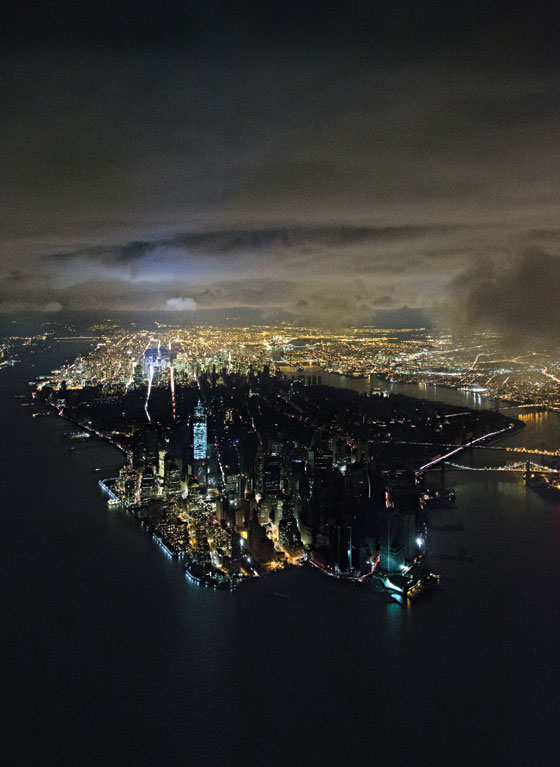 Perry Rubenstein Gallery in Los Angeles announced this week that they now represent photographer Iwan Baan. As part of the news, the gallery also announced that Mr. Baan's instantly-iconic aerial photograph of New York in the wake of Hurricane Sandy–The City and the Storm, which graced the Nov. 12 cover of New York magazine–will be sold in an edition of 10, with each photograph priced at $100,000. All proceeds will go to the Mayor's Fund to Advance New York City, which supports Hurricane Sandy relief efforts. In addition, the design store at the Museum of Modern Art in New York will sell posters of the image, priced at $20 a piece with all of the money going toward Hurricane Sandy relief in perpetuity.
In a phone interview with Gallerist, Mr. Rubenstein said that he and Mr. Baan had been talking about doing an exhibition together since the photographer gave a presentation at the gallery in September about his Golden Lion-winning project at the Venice Biennale for Architecture, Torre David/Gran Horizonte.
"And along comes Sandy," Mr. Rubenstein said. "I was lying awake one night, a displaced New Yorker living in Los Angeles, and I got a note from Iwan about the show we'd been planning for February. He said, 'I happened to take this picture that's become a viral sensation. I said, 'Holy shit! That's the whole story.'"
Mr. Bann had come to New York to photograph the new Parrish Art Museum, but the assignment was derailed by the storm. Having worked in disaster areas before, he went out into the city and visited every ATM that still had power and took out as much cash as he could, Mr. Rubenstein said. He then called Hertz and asked for a car (he's a very frequent customer) and was sent out to JFK airport. There, he looked around for someone with a helicopter. Some were on hand, but no one had fuel.
"He finally found a guy who said to him, 'I have a helicopter and I have fuel, but I'm not taking any credit cards,'" Mr. Rubenstein said. That was no problem.
The image, taken two nights after Sandy hit, shows Lower Manhattan eclipsed in darkness, save for the pocket surrounding the construction zone at Ground Zero. It will be on view at the gallery Feb. 20 to April 13 next year as part of a solo show called "The Way We Live." In all, the image is expected to generate well over $1 million to help support relief efforts.