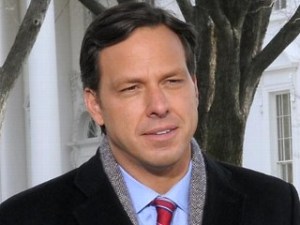 Jake Tapper, ABC's senior White House correspondent, is leaving for CNN–where he will be the anchor of a new weekday program and CNN's chief Washington correspondent.
The news was first reported in a press release from ABC that announced a number of staffing changes at the network.
"Jake is leaving ABC News for an opportunity at CNN.  You'll hear more about his new anchor role from his new network," wrote ABC. "For years, Jake has set the pace for the White House press corps.  A ferocious reporter – and now a best-selling author – he has built a reputation as one of the most prolific and multi-talented journalists on the beat, scoring scoop after scoop."
Mr. Tapper's new network released their statement moments after the ABC announcement came out.
"We are thrilled to have Jake join CNN and take the helm of a brand new weekday program," said Ken Jautz, executive vice president of CNN/U.S. "Jake is an exceptional reporter and communicator, and we look forward to developing a program that takes advantage of all of his strengths, his passion and his knowledge of national issues and events."
"With CNN's impeccable reporting during the elections and the exciting changes in the works for the network, this is a perfect time to join the CNN team," Mr. Tapper said, in CNN's release. "I am excited about the prospect of working with both the new leadership and some old friends and colleagues."
Mr. Tapper made news yesterday when he asked Barack Obama where he has been on gun control during the president's press conference on gun policy.