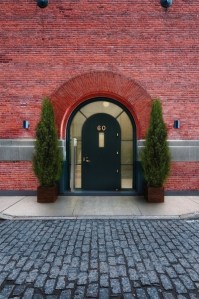 The Lower Manhattan real estate market: is it down and out after Sandy, or an unstoppable, unshakeable force, impervious to hurricanes and the floods and power outages that might cripple less desirable neighborhoods and cities.
Well, it all depends on if you're a faithful reader of The New York Times or The Wall Street Journal. We just hope that you're not both because then you're going to be really confused. In stories published just days after one another, the country's two intellectual heavyweights offer vastly different spins on the Post-Sandy market.
If you read The Times, things are kind of gloomy at the bottom of the island. A family walked away from a $17.5 million Tribeca mansion that wasn't even flooded. Prices are dropping by the millions. Chinese parents buying condos for their college freshman sons have recoiled in horror. Who even knows if they'll let their kids go to college here anymore.
Are you feeling a little depressed brokers? Well, we suggest you turn to The Journal, which would like to assure you that buyers are persisting come hell or high water. Buyers are demanding showings in buildings that have yet to regain power, like Superior Ink. Prices are rising as inventory disappears (a lot of listings in badly flooded buildings are off-the-market until repair work finishes) and banks are so eager to drink the milk of the downtown cash cow that they're easing restrictions on inspections, with many taking exterior photographs rather than making real inspections.
The Observer has also made its own predictions about the Lower Manhattan real estate market, in which we pronounced it hale and hearty despite everything, but that was a whole three weeks ago.
What's the truth? The answer is no one really knows. Some buyers have been more cautious since Sandy, a few have walked away and a lot of others couldn't care less. And most likely, the Lower Manhattan market will reach an equilibrium, possibly with some some relatively modest price reductions. We won't see any real sea changes if, and unless, Lower Manhattan gets hit with another hurricane.
kvelsey@observer.com