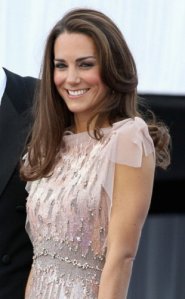 Kate Middleton is reportedly pregnant.
The Duchess of Cambridge–and wife of Prince William, second-in-line to the throne–has been admitted to the hospital in London with morning sickness, ending a long guessing game over when the couple, who met at the University of St Andrews in Scotland, would produce an heir. The child would leapfrog Prince Harry to become third-in-line to the throne after William and the current heir apparent, Prince Charles (or, as he's soon to be known, Grandpa, or something more formal and twee like Grandpapa).
As for a name, we suggest Avery, Olivia, or Nevaeh for a girl and Caleb, Jayden, and Brayden for a boy.