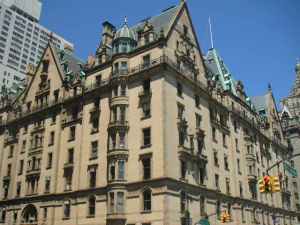 Are the days of airing the Dakota's dirty laundry finally nearing an end? Hedge fund manager Alphonse Fletcher Jr.'s lawsuit against the board of the fabled Upper West Side co-op still stands, but he and the lawsuit are standing all by themselves.
The two law firms representing Mr. Fletcher have been allowed to withdraw from the case, according to The Wall Street Journal, citing unpaid bills and irreconcilable differences—the culprits that seem to end every once-happy relationship.
The unpaid bill part is particularly bad news from Mr. Fletcher, given that the crux of his lawsuit against the co-op board is that he was financially fit to buy another apartment neighboring his own and that the board's denial of his bid amounted to discrimination (Mr. Fletcher is black). The board has claimed that the turn-down was the result of Mr. Fletcher's shaky financials.
Mr. Fletcher has, apparently, had problems paying off his legal teams in the past. The Journal reports that court filings by Mr. Fletcher's fund show that when it filed for bankruptcy-court protection, it owed more than $2 million to law firms.
The allegations in Mr. Fletcher's lawsuit extended well beyond his own personal situation (he claimed, among other things, that the board made ethnic slurs against prospective residents and denied another black resident, Roberta Flack, the right to install a bathtub in her apartment), but it could be much harder for Mr. Fletcher to win his suit if there are strong indications that the board had good reason to think he couldn't afford to carry a third apartment.
Moreover, finding another firm to take the case pro-bono seems unlikely. Law firms don't usually do charity work for Wall Street tycoons who are miffed that their application to buy a third apartment in a tony c0-op was rejected.
Mr. Fletcher has until December 20 to hire a new lawyer, although extensions often allow lawsuits to live on for years and years, so we don't necessarily expect to see much change in the next few weeks. But who knows? Maybe Mr. Fletcher will drop the lawsuit, maybe co-op board president Bruce Barnes will decide he doesn't want to sell his palatial apartment for $29.6 million after all, maybe by next year's autumn potluck the building, if not the world, will live as one.
kvelsey@observer.com