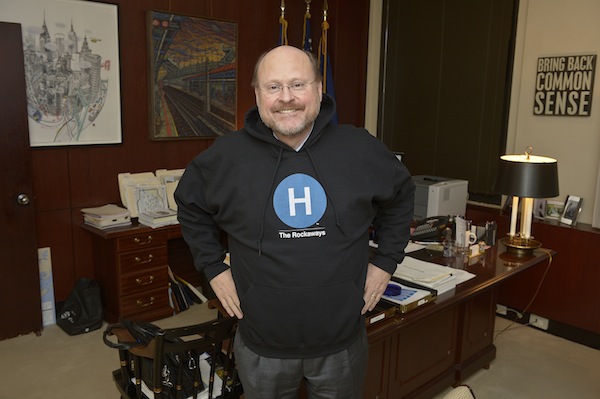 The "I Survived the Frankenstorm" shirts had already hit street corners and Etsy shops within days of the hurricane battering New York. But here's some Sandy swag that actually goes toward a good cause. The MTA has created a limited edition line of H train memorabilia, including T-shirts, hoodies, pins and magnets, and all proceeds go to the Graybeards, a Rockaways charity that has been helping out with the superstorm recovery. And who better to model the new line than MTA chief Joe Lhota, hero of the storm.
"We were looking for a way to use our licensed products to help out in the recovery efforts taking place in the Rockaways," Mark Heavey, MTA Director of Marketing & Communications, said in a release. "The H Line has piqued a lot of interest in subway service in the Rockaways and, with the help of a few of our product licensees, presented us with a unique opportunity to promote the service and to provide tangible assistance to efforts to rebuild that community."
The gear is available on the MTA's Transit Museum online store.
The H train began running a few weeks ago, providing free shuttle service within the storm-battered peninsula. After the Broad Channel crossing was nearly destroyed by Sandy, it will take months for A train service to resume as normal.
Correction:The gear is only available online, not at the Transit Museum's retail outlets in Brooklyn and Grand Central, as previously reported. The Observer regrets the error.