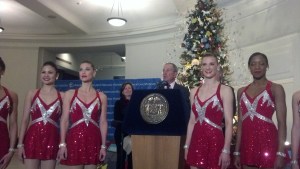 At last year's New Year's Eve festivities, Mayor Michael Bloomberg lit up the stage when he shared a smooch with the pop sensation Lady Gaga. This year, however, Mr. Bloomberg will be joined by the Rockettes, Radio City Music Hall's precision dance group. At his press conference this afternoon trumpeting another record year for New York's tourism industry, Politicker asked Mr. Bloomberg if he expects tonight's celebration to top the time he spent with Lady Gaga.
"You know, I don't–Lady Gaga, she was–I don't know. I mean, I just–you know, with these six here, what am I supposed to say?" Mr. Bloomberg stammered, gesturing to the Rockettes who joined him for the media availability. The dancers laughed and smiled politely.
Mr. Bloomberg went on to describe the difference between his New Year's dates in terms of their ages.
"There are a lot of great entertainers, Lady Gaga is a great entertainer and she's very good for New York. The Rockettes are a a great group of dancers, they've been here for  85 years I think," the mayor said. "Lady Gaga is not 85 years old. But the Rockettes are."
Taking the spotlight off himself, the mayor finished the discussion of his evening by rattling off options available to year-end revelers who won't be spending the night with the Rockettes.
"And incidentally, you want glamour, and you want fun, and you want entertainment, [there are] Broadway shows," he said. "Off Broadway. There's performing arts groups in every borough in this city. Classical dance. [Dance] from every place in the world."
Correction (4:03 p.m.): Mr. Bloomberg was initially quoted using the word "chicks" instead of "six."