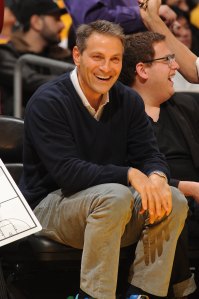 In the wake of the killings in Newtown, Hollywood superagent Ari Emanuel is making a donation to Mayors Against Illegal Guns, the initiative co-founded by Mayor Michael Bloomberg. Mr. Emanuel, one of the CEO's of the massive talent agency William Morris Endeavor and the real-life inspiration for Entourage character Ari Gold, announced his support for Mr. Bloomberg's anti-gun violence crusade in a blog post on his Linkedin  page yesterday.
"There is no way to ignore the tragedy that took place in Newtown. It weighs on us as a country. As a parent it is unfathomable, and compels me to question how this could have happened," wrote Mr. Emanuel. "I am the first to acknowledge that the issue of gun control is complicated and has many sides. I am not here to educate anyone on the matter. But just because something is complicated doesn't mean that we should just throw our hands up. It actually means that it matters and that we need to come to the table and figure this out."
In his blog post, Mr. Emanuel proposed four solutions for people to address gun violence; signing White House gun control petitions, electing politicians "who are willing to take this issue head on," talking about gun violence with acquaintances  and donating to charity, specifically Mayors Against Illegal Guns.
"Put your money where your mouth is. I am. I am donating to Mayors Against Illegal Guns, an organization formed by Boston Mayor Thomas Menino and New York Mayor Michael Bloomberg that is committed to gun control initiatives," wrote Mr. Emanuel. "You can donate to it or another organization supporting the cause. No amount is too small."
A spokesman for WME told Politicker the company was "not disclosing the amount" of Mr. Emanuel's contribution. Mr. Emanuel, who is the brother of former White House Chief of Staff and current Chicago Mayor Rahm Emanuel, is a prolific political fundraiser. During this year's presidential campaign, Mr. Emanuel was one of President Barack Obama's major bundlers and brought in over $500,000 for his re-election bid.