Morning News Digest: Dec. 12, 2012
By Matthew Arco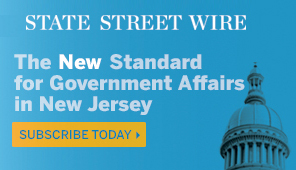 Booker to northern Dem chairs: 'I've got your backs'
MOONACHIE – The two men used to people going to them stood on the polished shiny surface of the Graycliff and waited while Newark Mayor Cory Booker bridged a gulf of milling humanity and finally found the outstretched hands of Bergen County Democratic Chairman Lou Stellato and Passaic County Democratic Chairman John Currie.
"I've got your backs," Booker told the two chairmen, who told the mayor they're worried about the potential for down ballot damage next year when Gov. Chris Christie runs for re-election. (Pizarro/PolitickerNJ)
http://www.politickernj.com/61670/booker-northern-dem-chairs-ive-got-your-backs
Former Birdsall employee indicted
Former Birdsall Services Group Executive Vice President Tom Rospos was indicted today as part of the ongoing investigation into illicit campaign donations by the firm.
Rospos, 60, of Belmar, was charged with second-degree counts of conspiracy, making false representations for government contracts, misconduct by a corporate official, and money laundering. Each of these counts carries a sentence of five to 10 years in prison. He was also charged with tampering with public records or information (3rd degree), falsifying or tampering with records (4th degree), prohibited corporation contributions through employees (4th degree), and concealment or misrepresentation of contributions or expenditures (4th degree). (Isherwood/PolitickerNJ)
http://www.politickernj.com/61664/bidsall-employee-indicted
Newark Mayor's Office: seating Speight blocked Sharpe James's son
The Newark mayor's office absorbed Judge Dennis Carey's decision today to strip At-Large Councilwoman Shanique Speight from the seat she occupied last week.
An ally of the mayor's, Speight joined the city council following what Mayor Cory Booker argued was his tiebreaking prerogative. (Pizarro/PolitickerNJ)
http://www.politickernj.com/61657/newark-mayors-office-seating-speight-blocked-sharpe-jamess-son
State provides $26M for post-Sandy recovery via Labor Dept.
TRENTON – The state will provide $26 million toward post-Sandy recovery to assist businesses and workers.
Gov. Chris Christie today announced the investment of training dollars by the state Department of Labor and Workforce Development through three programs: Recovery4Jersey, Skills4Jersey and Recovery4Jersey. (State Street Wire)
http://www.politickernj.com/61669/state-provides-26m-post-sandy-recovery-labor-dept
Christie rips D.C. gridlock
In a half-hour speech that could very well serve as a blueprint for a future campaign stump speech, Gov. Chris Christie today bemoaned the partisan gridlock in Washington, saying it's time for politicians to address the fiscal cliff instead of "carping, complaining and moaning."
He said it's inexcusable for both Republicans and Democrats to not talk and work together on addressing the pressing issue of the $16 trillion debt. (Hassan/State Street Wire)
http://www.politickernj.com/61665/christie-rips-dc-gridlock
Gov. Christie: Rebuilding businesses after Hurricane Sandy is 'priority No. 1'
WOODBRIDGE — Gov. Chris Christie today won over a friendly crowd with his promise to make rebuilding businesses post-Hurricane Sandy "priority No. 1."
Hours after state Sen. Barbara Buono (D-Middlesex) became the first Democrat to announce her campaign for governor, Christie took a shot at unnamed officials who could use Sandy as a "political opportunity/" (Portnoy/Star-Ledger)
http://www.nj.com/news/index.ssf/2012/12/gov_christie_rebuilding_busine.html#incart_river
Judge rules Cory Booker did not have authority to vote for open Newark council seat
NEWARK —Judge Dennis Carey III probably knows all about how Newarkers live and breathe their politics. But if he didn't, he got a learning moment today.
After an hour of reading over musty statutes and debating which clauses superseded which subsections, Carey issued the words that mattered most to the packed chamber inside Newark's opulent historic courthouse: "I am going to rule in favor of the Baraka plaintiffs." (Giambusso/Star-Ledger)
http://www.nj.com/news/index.ssf/2012/12/judge_rules_booker_did_not_hav.html#incart_river
Assemblyman wants tougher utility poles, not sure how much good they'd do or how much they'd cost
The problem, Assemblyman John F. McKeon said, is utility poles just aren't as sturdy as they could be. It's potentially making outages worse than necessary and putting line workers in danger, he said.
But he's not quite sure how much his proposed bill to to require sturdier poles would ultimately cost utility companies, or how much of a difference it would make after a major storm — like Sandy or Irene. He had ballpark estimates, but not specific figures. (Hochman/NJ.com)
http://www.nj.com/morris/index.ssf/2012/12/assemblyman_wants_tougher_util.html#incart_river
N.J. business owners complain FEMA isn't helping much
HIGHLANDS — Business owners wiped out from Hurricane Sandy complained at a legislative committee hearing today they can't get any affordable federal assistance to rebuild.
Fred Rosiak, owner of Captain's Cove Marina in Highlands, said he used his life savings to repair a bulkhead damaged from Hurricane Irene last year. He completed the work three days before Sandy struck and now faces $100,000 worth of new damage. Through the Federal Emergency Management Agency, he only qualifies for a small business loan with an interest rate higher than one available through a bank and he would be required to put up his home as collateral, he said. (Spoto/Star-Ledger)
http://www.nj.com/politics/index.ssf/2012/12/nj_business_owners_complain_fe.html#incart_river
EDA backs Atlantic City conference center with $24 million grant
The New Jersey Economic Development Authority on Tuesday backed a proposed new conference center in Atlantic City, saying the project would become a destination attraction for the gaming hub.
The board approved an Economic Redevelopment and Growth grant for Harrah's Atlantic City, worth up to $24.1 million over 20 years, to support the $144.6 million, 243,000-square foot conference and meeting facility proposed for the city's Marina District. (Kaltwasser/NJBIZ)
http://www.njbiz.com/article/20121211/NJBIZ01/121219953/EDA-backs-Atlantic-City-conference-center-with-$24-million-grant
Survey indicates business confidence at five-year high
An indicator of businesses' outlook on the state economy reached positive territory for the first time in five years, but companies still balk at the cost of doing business here, which is holding back hiring, according to a survey released by the New Jersey Business & Industry Association at its annual public policy forum today in the Iselin section of Woodbridge.
According to the NJBIA 2013 Business Outlook survey, 17 percent of the 1,470 respondents hired additional workers in 2012, while 22 percent laid off employees this year. However, NJBIA President Philip Kirschner called that an improvement from 2011's numbers which were 15 percent and 27 percent, respectively. (Eder/NJBIZ)
http://www.njbiz.com/article/20121211/NJBIZ01/121219954/Survey-indicates-business-confidence-at-five-year-high
NJ mayor finishes week on food-stamp budget
NEWARK, N.J. – Newark Mayor Cory Booker has stopped living on food stamps.
Booker ended his food stamp challenge Tuesday after spending a week living on $1.40 for each meal. (Zezima/AP)
http://www.philly.com/philly/news/politics/nj/20121211_ap_njmayorfinishesweekonfoodstampbudget.html
Scalia gets heat over his writings
PRINCETON – U.S. Supreme Court Justice Antonin Scalia on Monday found himself defending legal writings that some say they find offensive and antigay.
Speaking at Princeton University, Scalia was asked by a gay student if it was necessary for him to equate laws banning sodomy with those barring bestiality and murder. (Mulvihill/AP)
http://www.philly.com/philly/news/politics/20121211_Scalia_gets_heat_over_his_writings.html
Futures for Booker, Lautenberg tied together
WASHINGTON — He's not up for election until 2014, but Frank Lautenberg can't escape questions about his future these days.
On Sunday The Washington Post's The Fix blog listed Lautenberg as one of the top Senate Democrats to watch for a potential resignation. Tuesday's Roll Call has a story about the Senator's future, given his age (he'll be 90 when he has to run for re-election) and the hungry New Jersey Democrats lining up for a shot at his seat in Washington. (Tamari/Inquirer)
http://www.philly.com/philly/blogs/capitolinq/questions-follow-lautenberg.html
Bill Would Block Attempts to Change Children's Sexual Orientation
Should psychological counselors in New Jersey be allowed to attempt to change the sexual orientation of children?
A bill banning the practice is scheduled for a hearing with the state Senate Health, Human Services and Senior Citizens Committee on December 17. The issue has already sparked national debate, with socially conservative professional groups parting ways with larger national organizations. (Kitchenman/NJSpotlight)
http://www.njspotlight.com/stories/12/12/11/bill-would-block-attempts-to-change-children-s-sexual-orientation/
Foreclosures Still Hit Home for Tens of Thousands in NJ
Like many New Jerseyans, Yolanda Andrews began having mortgage problems when the economy fizzled, which in turn was caused by the Wall Street meltdown as risky mortgage-backed securities went bad.
But the Newark resident may yet beat the odds. In August, Andrews said, Wells Fargo notified her that she qualifies for a modification of her mortgage loan. (Tyrrell/NJSpotlight)
http://www.njspotlight.com/stories/12/12/11/foreclosures-still-hit-home-for-tens-of-thousands-in-nj/
As NJ Solar Sector Cools, Rest of Country Shows Double-Digit Growth
The pace of solar installations may be slowing a bit in New Jersey, but in the rest of the nation the third-largest number of systems was installed in the third quarter, guaranteeing a record surpassing last year's total of 1,885 megawatts of capacity.
So far this year, 1,992 megawatts of capacity were installed across the country, according to the Solar Energy Industries Association, a trade group representing the businesses in the sector. (Johnson/NJSpotlight)
http://www.njspotlight.com/stories/12/12/11/as-nj-solar-sector-cools-rest-of-country-shows-double-digit-growth/
politickernj.com/freetrial
politickernj.com/wire/daily-schedule
Opinion
The Record: A full court
GOVERNOR Christie often has gotten his way with the Democratic-controlled Legislature. Just think of such bipartisan accomplishments as the 2 percent cap on property tax increases, health and pension benefit reform, changes in teacher tenure regulations and the restructuring of higher education.
A big exception to the inter-party harmony has been the governor's failure to appoint two judges to the state Supreme Court. Nominees Bruce Harris and Philip Kwon were both rejected earlier this year by the Senate Judiciary Committee. Harris, who would have been the state's first openly gay Supreme Court justice, was faulted for lack of experience. The nomination of Kwon, who would have been the first Asian-American on the court, was rejected after questions were raised about his political affiliation and some of his family's business dealings. Notwithstanding those plausible concerns, the committee's rejection of both men certainly carried the whiff of partisan politics. (The Record)
http://www.northjersey.com/news/opinions/182931071_The_Record__A_full_court.html
Hopatcong teachers wrong to use student college letters as leverage in contract talks: Editorial
Imagine you're a high school student who's worked hard for years, with hopes of getting into the college of your dreams. The deadline to apply is coming up. All you need is the letter of recommendation from your teacher to slip into your application. Who doesn't want to make a good impression with an early submission? (Star-Ledger)
http://blog.nj.com/njv_editorial_page/2012/12/hopatcong_teachers_wrong_to_us.html
To defeat Christie on gay marriage, a popular vote is New Jersey's safest bet: Editorial
Supporters of gay marriage in New Jersey have blown two chances to win their fight, and may be about to blow a third.
The first came in 2009, when they had the legislative votes and a supportive governor but didn't pull the trigger until after Gov. Chris Christie won election and changed the momentum. (Star-Ledger)
http://blog.nj.com/njv_editorial_page/2012/12/to_defeat_christie_on_gay_marr.html