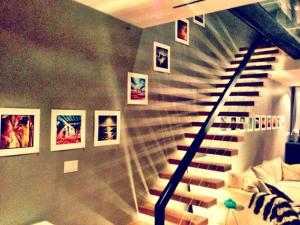 Art shows at on-the-market penthouses are so common that they have arguably supplanted open houses in many of the city's trendier corners, but art made and sold by the penthouse's listing broker is something new.
Last night Douglas Elliman broker Fredrik Eklund hosted an exhibit of his photography in the penthouse of 50 Lispenard Street. Mr. Eklund told us that all 25 photographs at the event sold. The penthouse, listed for $4.55 million, is still on the market. (Mr. Eklund has the entire six-unit building, which is half sold).
"I take photos with my Leica, Canon and iPhone5 and have photographed since I was 6 years old," Mr. Eklund wrote about his work when we asked about the sideline. (Mr. Eklund, who is himself  famously photogenic, is a man of many talents.)
What's more, we hear that Mr. Eklund was also busy filming for Bravo's Million Dollar Listing, the reality TV show in which he stars. Mr. Eklund, of course, isn't permitted to breathe a word about the show or its shooting schedule, but several event attendees confirmed that Bravo's cameras were rolling last night. (The twittersphere was, additionally, very much atweet with the fact.)
Among those in attendance were a number of real estate insiders including Douglas Elliman CEO Dottie Herman (no surprise there), but also Miss New York USA (the feeder pageant to the Miss Universe pageant) Amber Collins and artist Andres Serrano. The Observer, sadly, did not number among the guests. We were a little alarmed, then, when we heard about Mr. Serrano's attendance. Would Mr. Eklund's work bear any resemblance to the controversial photographer's notorious pairings of bodily fluids and religious imagery?
The answer is a firm no (although one print on his website, titled Blood, does feature a large hanging drop of the substance). Mr. Eklund's photos, which range from roughly $50 to $150, have a hazy-around-the-edges Instagram quality and feature cityscapes, the beach, cloud formations, horses and other scenes that would be perfectly suitable for any apartment staging.
kvelsey@observer.com