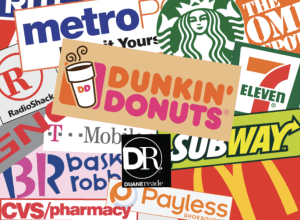 James Joyce once puzzled whether it would be possible to cross Dublin without passing a pub. As it turns out, despite having more than 22 pubs per square mile, with the help of a computer algorithm, it just barely is. Today, after The Center for an Urban Future released its fifth annual study ranking the national retailers popping up all over in New York City, it might have found a harder puzzle to solve. With a reported 24 locations per square mile, is it possible to cross New York without passing a chain store?
The report showed a 2.4 percent increase in the total number of chains over the past year, despite prominent retailers like Filene's Basement and Betsey Johnson closing their doors. It is boom maintained by trusty stalwarts like Dunkin Donuts, which opened 18 stores in the last year for a total of 484 citywide, followed closely by Subways, with 454 locations, and despite seeming to be on every street corner, Starbucks, with a mere 272 locations.
The number of national retail store locations grew in every borough but Staten Island. The Bronx, at a pace of 4.3 percent growth, grew the fastest, going from 809 store locations in 2011 to 844 in 2012. It is the second consecutive year of rapid retail expansion in the Bronx. Both Manhattan and the ever-expanding Brooklyn registered a 2.6 percent increase this year. Queens, not to be left out, was up 2.1 percent. Staten Island had a 0.7 percent drop (not attributable to washouts from Sandy, it would appear).
Overall, the total number of 310 retailers included in the study accounted for a massive 7,190 stores in the city. That;s a whole lot of the generic branding for a city that prides itself on (or at least pretends to) being unique.
It's a testament to the city, somehow, that while walking a mile past the brands, chains and logos, that it can still feel like anything but the strip mall it's hoping not to be.