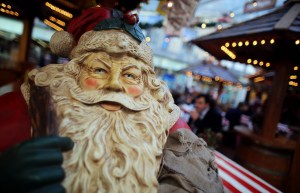 Watch out Santa. A new poll from Public Policy Polling shows 47 percent of Americans believe there is a "War on Christmas." For years conservative pundits, particularly Fox News host Bill O'Reilly, have argued that secularization efforts including encouraging generic "holiday" celebrations rather than Christmas festivities amount to an assault on the Christian holiday.
According to the poll 40 percent of Americans do not believe there is a "War on Christmas" and 13 percent are not sure. Slightly more men, 50 percent, believe in the "War on Christmas" than women, 45 percent.
PPP's poll included several other holiday-themed questions that yielded rather interesting results. Notably, 52 percent of respondents said they believe in Santa Claus compared to 45 percent who do not. The poll also found that 87 percent of Americans celebrate Christmas, three percent celebrate Hanukkah, four percent celebrate Kwanzaa and three percent celebrate the Seinfeld-inspired holiday of Festivus.