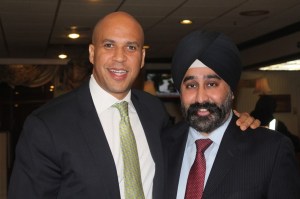 At a Dec. 17 fundraiser with Newark Mayor Cory Booker, Hoboken Councilman Ravi Bhalla raised $40,000 toward his Assembly campaign account.
Not a declared candidate at this time, Bhalla said he wants to try to raise $200,000 by the spring and has upcoming California and Manhattan fundraising trips on his schedule.
"We're plugging away," said Bhalla. "One thing about running at that level is that it's earned, not given. I am building a strong fundraising base."
Bhalla wants to run on a ticket with state Sen. Brian P. Stack (D-33), who has close, cross-the-aisle ties to incumbent Republican Gov. Chris Christie.
Stack's ticket is in shake-up mode. An opponent of Christie's pension and benefits overhaul, Assemblyman Ruben Ramos (D-33) – who defeated Bhalla in 2011 – is eyeing a run for mayor of Hoboken. Assemblyman Sean Connors (D-33) is running for a Jersey City Council seat.
"It would be an honor to serve with Mayor Stack," said Bhalla. "One critical component is really adding value to beng in a position to get our message out."
Bhalla said he has not ruled out endorsing Christie.
"I haven't," he told PolitickerNJ.com. "I'm not committed to any candidate. I think the governor is a formidable contender right now. The Democrats need a formidable contender. The governor has done great things for Hoboken. He's been an extraordinary partner with Mayor Zimmer. We want to make sure we have a strong relationship with the governor."