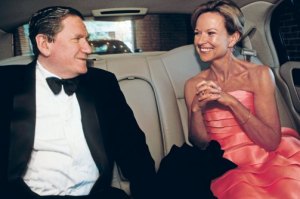 Kati Marton had already moved on from the spacious four-bedroom, four-bath co-op that she and the late diplomat Richard Holbrooke once shared at the Beresford. Now she's finally sold it, city records show, for the bargain price of $11 million.
But the famed journalist was clearly eager to make a deal. After listing the eighth-floor apartment at 211 Central Park West for $14.7 million in August of 2011, she reduced the price to $13.5 million only a month later, whipping through a series of sharp price cuts in the following months.
In June, Ms. Marton bought a more modest co-op at 33 Riverside Drive and apparently decided it was really time to let go of the past, dropping the price to $11.3 million. She did share the home with not one, but two former husbands. She bought the eight-floor spread in the early 1990s with Peter Jennings, her second husband, and held onto it after their divorce.
The listing, held by Stribling broker Beatrice Ducrot, includes all the bells and whistles of a Central Park West listing, with Park views from the living room, library and master bedroom. Wood panels, carved doors and wood-burning fireplaces abound. It is, without a doubt, "well suited to entertaining and gracious living," as the listing claims. When Holbrooke was alive, the couple held a dinner toasting Hilary Clinton in the apartment every December with guests like Matt Damon, Glenn Close and Robert de Niro.
Which is good news for the buyers—Janet and Marvin Rosen. Mr. Rosen, a lawyer, was the finance chairman of the Democratic National Committee from 1995 to 1997 and presumably continues to hobnob with some political personages.
The apartment won't entirely the same as it was when the power couple lived there, of course. Minus the stardust, it's missing an add-on office. A little over a year ago Ms. Marton sold the adjoining one-bedroom that Holbrooke had used as an office for $1.8 million. It sounded like the perfect place to get a remaining hour of important government work done while the caterers were busy prepping dinner next door.
But not to worry, with a total of four bedrooms and ample closet space, the Rosens can certainly find a place to put their desks.
kvelsey@observer.com