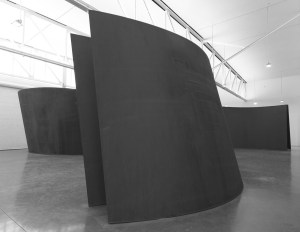 Amidst talk of artists leaving the Gagosian Gallery, news of any artists who show with Gagosian doing exhibitions elsewhere is likely to be closely scrutinized, and potentially misunderstood. Gallerist can reveal that, while Richard Serra, a longtime Gagosian artist, will have an exhibition of historical work at David Zwirner gallery in the spring, the artist's relationship with Gagosian remains unchanged, and, in fact, he is planning a major exhibition of new sculpture for next fall at Gagosian's two Chelsea locations.
The exhibition of historical sculptures will take place in Zwirner's new West 20th Street gallery. According to John Silberman, Mr. Serra's longtime attorney, Mr. Zwirner approached Mr. Serra about the exhibition, and the artist was enthusiastic about it.
The fact of the Zwirner exhibition does not, however, alter Mr. Serra's relationship with Gagosian Gallery, Mr. Silberman emphasized, and should not be confused with any kind of defection. Gagosian Gallery has been the primary gallery for Mr. Serra since the 1990s. (They've actually worked together for several decades.) The relationship has long been non-exclusive, and Mr. Serra, who works independently, does exhibit with other galleries—for instance, at the moment, new drawings on Mylar comprise an exhibition that closes this week at the Craig F. Starr Gallery, on the Upper East Side.
Mr. Serra is currently at work on major new sculptures, to be exhibited in both of Gagosian Gallery's Chelsea locations in the fall, Mr. Silberman confirmed. Judging by past exhibitions of Mr. Serra's mammoth steel works at Gagosian, such as fall 2009's "Blind Spot Open Ended" (at West 21st Street) and, more recently, and more grandly, fall 2011's "Junction/Cycle" (in the vast West 24th street location), the Gagosian exhibitions are likely to be monumental in scale.
The Zwirner exhibition will open in April and include artworks dating from 1966 through 1971. Also at the 20th Street space, Zwirner will feature another historical show that runs concurrent with the Serra exhibition, of works by the late German artist Blinky Palermo. Both shows will be in the vein of historical exhibitions that once took place at Zwirner & Wirth, the now-defunct secondary market gallery co-run by David Zwirner and Iwan Wirth, proprietor of Hauser & Wirth gallery.
Correction 5:45 p.m. An earlier version of this story misstated the location of the Palermo show. It too will run at 20th Street.