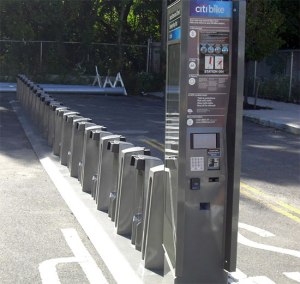 One of the victims of Superstorm Sandy was the city's CitiBike bike share program. After the program was delayed last summer due to computer problems, many of the bikes and stations that were awaiting deployment were warehoused at the Brooklyn Navy Yard. Much of the yards flooded when the East River burst its banks during the storm surge, including the lot with the bikes.
But today, the city's Department of Transportation announced that the bike share system would be ready to go in the spring as promised, and even announced a date, or at least a month, for the launch: May 2013. That is two months after the department had hoped to roll out the system, in March, and there will also be fewer bikes at fewer locations initially.
"DOT has worked around the clock to restore vital transportation links following the storm and that includes putting Citi Bike on the road to recovery," Transportation Commissioner Janette Sadik-Khan said in a statement. "Despite the damage, New York will have the nation's largest bike share system up and running this spring."
Come May, there will be only 5,500 bikes at 300 stations in Midtown, Downtown and parts of Brooklyn. That would still make the system the largest in the nation, but it is a little more than half the size of the full system, which will have 10,000 bikes at 600 stations (none of which are located in Upper Manhattan, the Bronx and much of Queens and Brooklyn, to the chegrin of some residents there and the joy of others, who are no fans of bikes).