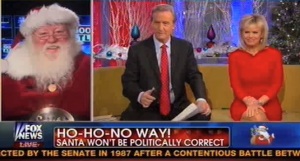 For all their talk about how "confusing" it is for children to see gay characters on television (lest they grow up thinking that was normal), Fox & Friends had no qualms about bringing a very busy Santa Claus all the way down from the North Pole to explain why the liberal media is waging a war against Christmas.
Which just makes you wonder … who is this shtick for? (Besides Brian Kilmeade, of course.)

[youtube http://www.youtube.com/watch?v=XApkZoPM25w&w=560&h=315]
Santa transcript:
You know, I never had a problem being Santa Claus, but there was a time a few years back when suddenly I started showing up at Christmas parties and was told that they were having holiday parties. So therefore, they didn't need a Santa anymore. And it was about that time, that was the time when I think the Surgeon General said Santa should lay off the cookies and start picking up more carrots and broccoli. I heard Santa in Australia said 'ha, ha, ha,' so as not to offend certain gals and Santas in England couldn't have children on their laps anymore.
Wait what? There is more than one Santa? Each country has a Santa? Forgetting everything else, destroying the childhood fantasy that Kris Kringle is a supernatural being who can visit all the good Christian children in the world in one night is actually MORE blasphemous than having an office "holiday party." Because children don't go to holiday parties. They do, however, listen to Santa Claus when he detonates his own myth on-air with Gretchen Carlson.
And you know what, why does Santa care about going to some drunk, depressing office party? It's a week before Christmas, and you are under-employed as it is. ObamaCare is probably the only kind of insurance you can get. So what are you doing on Fox News? Get to work, Santa!