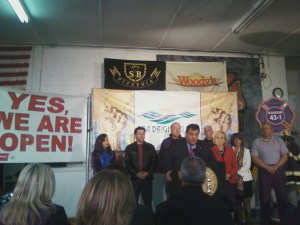 SEA BRIGHT – Gov. Chris Christie said today a survey has been created for businesses to provide feedback on how they could get their businesses up and running as soon as possible after Sandy.
The survey was made possible with the help of some of the state's biggest business groups, including the N.J. Business and Industry Association, state Chamber of Commerce, and the Commerce and Industry Association.
The survey can be filled out online. The site is www.newjerseybusiness.gov.
He described Jersey Shore businesses as the heartbeat of the state's economy and integral to the shore's culture.
"They represent the very best on how New Jersey reacted," he said.
He said Sea Bright has made tremendous progress in debris removal and was particularly complimentary of Mayor Long.
He said thus far, there has been $54 million in disaster loans, and 8,300 residents and businesses have registered in the loan program.
For survey"