The members of the Upper West Side's Carlebach Shul had nearly polished off their halibut and grilled squash when the band struck up "Killing me Softly," and Roberta Flack took the stage inside the St. Regis ballroom. Ms. Flack, clad in a rustling black gown, leaned in close to the microphone, and, to the great disappointment of many guests, launched into a speech rather than her famous song.
"I'm here to honor a special friend of mine. Someone I've known more than a year—a couple of years—and who is very dear to me," were the opening lines of a brief address that ended with Ms. Flack handing a large hunk of engraved glass to Michael Bolla, whom the synagogue was honoring as "the force behind the recent and much publicized Jewish revitalization of the Lower East Side."
Ms. Flack vanished almost immediately, but Mr. Bolla remained until almost midnight, basking in the praises of his fellow congregants.
Shouldering the burden of the Lower East Side's salvation is a far cry from Mr. Bolla's last project, which saw the 44-year-old real estate broker and developer restoring antique Czechoslovakian crystal chandeliers and Italian plaster ceiling medallions at a mansion in Chelsea.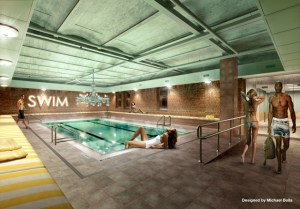 He installed a butler, a seamstress, a psychic and bulletproof windows, then filled the five-unit Chelsea Mansion with celebrity renters including Courtney Love, Emma Stone and political frère Olivier Sarkozy (who has since bought his own townhouse and taken up with the much younger Mary-Kate Olsen)
"Living in one of Michael's spaces is truly inspiring. The history he retains. He puts all of his passion and heart into creating true homes," former resident Andrew Garfield, star of The Amazing Spiderman and boyfriend of  Emma Stone wrote The Observer of his time spent there.
Mr. Bolla himself bunked with the bizarre coterie for two years until just as suddenly deciding it was time to "go home" to the Upper East Side.
Restoring the threadbare cultural fabric of the Lower East Side would seem an unlikely project for a celebrity hobnobber who lives in a park-facing Fifth Avenue condo where, he claims, even the super wears Brioni. Unless, of course, you are selling units in a new condo development at the intersection of Madison and Jackson Streets, trying to cash in on the neighborhood's faded glory.
To Mr. Bolla, though, his Chelsea Mansion and Madison Jackson are one and the same. "I want to create a spiritually grounded, artistic, creative community," he said, describing how Madison Jackson would both revitalize the neighborhood's dwindling Jewish population and bring in an exciting array of hip, young creative types. Religiously conservative Jews and hipsters may clash in Williamsburg, but here, along with the neighborhood's Asian and Latino populations, his hope is that they will cavort together and commune over amenities like 24-hour-a-day kosher, vegan food service, green dry cleaning and a basement swimming pool with designated single-sex swimming hours.
It isn't the first time that Mr. Bolla has been taken with a cause and the notion that his involvement could prove transformative. He has, at different times in his life, taken a deep and some might say consuming interest in an ailing yoga studio, the overlooked lacquer arts of China, female artists, historic restoration and morphogenesis in building design—a discipline that he believes will shape the future of the global architectural landscape.
He's also met the Dalai Lama, toyed with the idea of restoring mansions in Venice and studied yoga in India. He's spent thousands of hours on a yoga mat, he told The Observer. He's a man of average height and build, who for all his yoga, appears neither in nor out of shape. With a short-cropped beard and delicate features in a slightly fleshy face, Mr. Bolla is at that chameleon age when he can appear either boyish or like a middle-aged businessman, largely depending on what he is wearing.
"I'd love to have the bigger apartment in my building, but it costs $2 to $3 million more, and I could give that money to schools," said Mr. Bolla, who shares his current spread with a shih tzu. "You want to have meaning in your life. When I was younger, I was more driven by material possessions. I mean, I don't judge—I have fancy houses and all this bullshit, I hang around with people who have private planes, but most of the money I make now I give away."