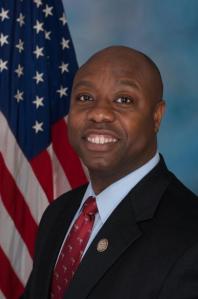 South Carolina Congressman Tim Scott, who has reportedly been chosen to replace Jim DeMint as that state's senator by Governor Nikki Haley, has had a heavenly helping hand during his time in Washington. A volunteer named Tim Taylor has led a  group of "prayer team warriors" who have organized on Mr. Scott's campaign website and prayed for God to give the congressman guidance and protection. Mr. Taylor told Politicker the team has been praying for Mr. Scott, who was elected to the House of Representatives in 2010, throughout his career.
"The prayer team has been active for many years now and we've prayed for Tim consistently," said Mr. Taylor. "I'm just committed to it. I've known Tim for a long time and, you know, I've just felt led to pray for him."
Mr. Taylor said there are  "several people" on Mr. Scott's prayer team and they also "have lists that they send out to prayer leaders."
"There's a lot of people praying for Tim," said Mr. Taylor.
Mr. Taylor has posted lists of "continuing requests to pray for" on the prayer team section of Mr. Scott's campaign site including:
"May the Lord watch over Tim – that he would be in God's will and that the Lord would bless him and give him guidance and favor as he navigates the halls of Congress."

"Please pray that the Lord would send his angels to protect and be encamped around Tim, his family and staff members – that they are kept safe from harm and danger."

"Please pray for protection from sickness and disease and full health for Tim and all his staff."
Despite his dedication to praying for Mr. Scott, Mr. Taylor does not credit the prayer team's work with getting the congressman named to South Carolina's Senate seat.
"I'm not saying that. I'm saying in general we've prayed for Tim and he's our representative. And we just feel that–I feel that it's important to pray for the leadership of our country," Mr. Taylor explained. "We're in Charleston, so, obviously, our representative is Tim. We want to pray for him and pray for the leadership of our country."
According to the New York Times, Governor Haley will officially announce Mr. Scott's appointment to the Senate seat today at noon.