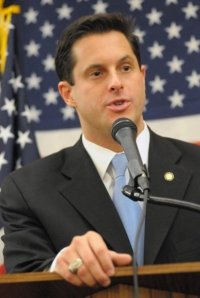 Over the weekend, The Journal News newspaper published maps with the addresses and names of pistol permit holders in Westchester and Rockland Counties. The information for the map was legally obtained by the paper through a Freedom of Information Act request, but it sparked a nationwide controversy among those who considered the map a privacy violation. This morning, State Senator Greg Ball weighed in by proposing legislation to keep gun records private and prevent the publication of similar stories in the future. He also blasted "the asinine editors at The Journal News" who published the map.
"The asinine editors at The Journal News have once again gone out of their way to place a virtual scarlet letter on law-abiding firearm owners throughout the region. The immediate elimination of the information posted on the Journal News website is the only way we can ensure the safety and liberty of these New Yorkers," said Mr. Ball in a statement. "This is clearly a violation of privacy, and needs to be corrected immediately. The same elitist eggheads who use their editorial page to coddle terrorists and criminals are now treating law-abiding citizens like level three sexual predators."
Mr. Ball vowed to introduce a bill in the State Senate that would ban disclosure of information in pistol license applications except to law enforcement officials involved in active investigations. Similar legislation has already been proposed in the State Assembly. In his statement, Mr. Ball described The Journal News's map as placing peoples' lives in danger.
"The Journal News has placed the lives of these folks at risk by creating a virtual shopping list for criminals and nut jobs," Mr. Ball said. "Publishing this information on a website provides criminals with a map of where they can steal firearms from lawful owners for later use in the commission of crimes. Preventing the theft of guns and their criminal misuse is an important public-policy goal. This map is bad for the good guys and good for the bad guys."
In addition to the maps of pistol owners in Westchester and Rockland Counties, The Journal News plans to publish a map of pistol permit holders in Putnam County. The paper published a similar story in 2006.