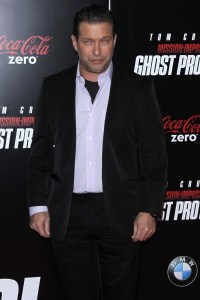 Stephen Baldwin was arrested on Thursday for alleged repeated failures to file his New York state personal income tax. Mr. Baldwin, an actor, conservative Christian and younger brother to 30 Rock star Alec Baldwin, allegedly failed to file taxes for three years–2008 through 2010–and he may owe the state over $350,000.
CBS New York quoted a statement from Rockland County, N.Y., D.A. Thomas Zugibe, who said Mr. Baldwin's "repetitive failure to file returns and pay taxes over a period of several years" was just another element contributing to "the sweeping cutbacks and closures in local government and schools."
The actor, well-known for both his family name and his role in The Usual Suspects, is an outspoken conservative. Mr. Baldwin has appeared on Fox News as a political commentator. He once famously claimed in an interview with Fox that he'd "leave the country" if Barack Obama became president.
Mr. Baldwin has also had previous brushes with the law, most recently in August, 2012, when he was arrested in Harlem for driving with a suspended license.
If he is found guilty of evading taxes, Mr. Baldwin could go to prison for four years.