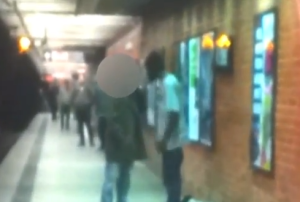 The N.Y.P.D. may have a person of interest in the tragic subway homicide that occurred at the 49th Street N/Q/R Midtown station Monday afternoon.
Queens resident Ki-Suck Han died Monday when witnesses say another man pushed him onto the subway tracks after a confrontation. Mr. Han attempted to climb back on the platform but couldn't make it and died from injuries suffered after he was struck by the Q train.
Just before the incident, a bystander captured what appeared to be a confrontation between Mr. Han and a dreadlocked man in his twenties. A New York Post photographer snapped chilling and controversial photos of Mr. Han as he struggled to get out of the train's way.
Witness reports indicate the attacker was a medium-height black male with a medium build in his twenties. He may have been talking to himself before the confrontation.
On Tuesday the Wall Street Journal posted the brief video (below) of the encounter between the suspect and Mr. Han. The younger man appears agitated and angry.
CBS New York reports there is a $12,000 reward for information leading to an arrest in this case.
[youtube http://www.youtube.com/watch?v=dFPDslf-Ujc]