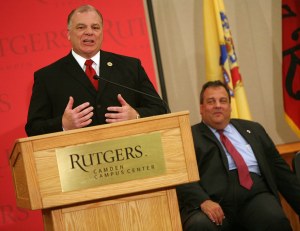 Senate President Steve Sweeney today tore into Gov. Chris Christie over the governor's appointment of Martin Perez to the Rutgers Board of Governors.
In making the appointment, Christie sidestepped the Senate, which had been holding up Perez's nomination to the board. Perez, a New Brunswick attorney and president of the Latino Leadership Alliance of New Jersey, was originally nominated to the position by the governor 18 months ago. Christie was able to appoint Perez under authority granted under the recent higher education restructuring bill, which created two additional governor's appointments to the board.
"The Senate Democrats have decided to play politics with nearly every important nomination I've tried to make over the past three years," Christie said Wednesday in announcing Perez's appointment.
In a statement, Sweeney accused the governor of breaking the law and of pandering to the Hispanic community.
"The governor has shown a reckless disregard for the law, the Rutgers Board of Governors and the people of the state of New Jersey. The legislation clearly states the additional appointments to the board need to be from Camden and Essex counties. The action he announced today is in direct violation of the law," Sweeney said.
Sweeney took aim at Christie's treatment of Hispanics, alleging the governor has harmed Latinos at every turn.
"This is a governor who every year has done more and more to hurt Latinos, as reflected in many of his actions from budget cuts, including vetoing millions of dollars for the Center for Hispanic Policy, Research and Development, to opposing tying the CPI to minimum wage or failing to make appointments that reflect the state's diversity. He has made five nominations to the Supreme Court, none of which represent the largest minority group in New Jersey, despite numerous highly qualified candidates."
During last year's statewide redistricting process, Perez was a vocal proponent of the map presented by the Republican committee. Perez agreed with the GOP assessment that the map would create more opportunities for Hispanic candidates.
But Democrats panned the map as an attempt at "packing" or putting as many Latinos as possible into one district to dilute their influence.
"Leading statewide Hispanic organizations directly denounced Mr. Perez for his redistricting map proposal, which would have packed minorities into districts, resulting in their underrepresentation in government and apparently this is his reward. The governor's attempt to curry favor with Latinos through backroom deal-making is wrong and his inability to name qualified candidates to critical positions is absurd in a state as diverse as New Jersey."
A spokesman for the governor did not immediately return an email seeking comment.