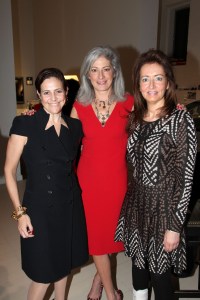 On Monday evening, approximately 30 high-profile businesswomen gathered in the Maserati of Manhattan on York Street in Tribeca. But they weren't there to buy cars. Culled from the Rolodexes of Alexandra Lebenthal and Michelle Smith, they were there to play for keeps at an event billed as "Ladies Poker Night" led by a "Poker Diva."
Though "diva" might be the wrong term. Besides Ms. Lebenthal and Ms. Smith, who are partners at the family wealth management and advisory fund Alexandra & James, the tables included Beth Bronfman, a managing partner at the ad agency View, New York Times-profiled divorce mediator Elana Katz, SalonTea's Tracy Stern, director of Espial Capital Eva Szymanski and our instructor for the evening, Ellen Leikind.
Ms. Leikind, who turned to cards after years in the Fortune 500, is the author of a book called PokerWoman. "My mother taught me how to play when I was a girl, but once I entered adulthood, I was never invited to the table," she told the Transom. "It was such a boy's sport, much like corporate America. And I decided I wanted in."
The petite Ms. Leikind was wearing a cast on her leg, obtained after slipping on the ground outside of a casino. "But I had won $13,000 that night at the tables, so I was just happy to keep the money."
Ms. Smith shared a similar sentiment. "The boardroom is always a men's club, and the ultimate man sport was golf. Poker was the man's game. But poker is so much about the skills you'll need to compete with men. It's about learning how to take risks, how to assert yourself, and how to see those nonverbal signs that people give off and adjust yourself accordingly." Then she slipped in the news that she had won $30,000 on a recent trip to the Bellagio in Las Vegas.
We picked up the pamphlets in front of us on the table, which—in addition to explaining what a flush is and what "calling" refers to—contained a Cosmo-esque personality quiz. Were we the type of person who thought the highest compliment was that we "took charge" or that we "worked well with others?" Did we like to decide where to take friends for dinner, or did we go with the flow? It wasn't too hard to figure out the point: in the world of poker, being sugar and spice and everything nice wouldn't get you anything except an empty wallet.
When it came time to play, the Transom thought it would be a breeze. In less than 10 minutes, we were the only person in the room without any chips. In an effort to show how aggressive we were, we had refused to fold … ever. It also didn't help that during the first round we got confused and thought we were playing blackjack.
But we did everything we were supposed to. We gambled assertively and took risks. Why weren't we the CEO of an investment firm yet?
"Well, you see that kind of behavior more often in men," Ms. Leikind sighed. "Sometimes people will just do what they want, no matter what you tell them at the table."