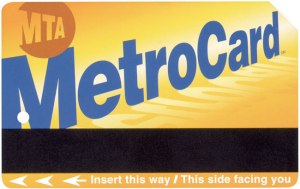 It's official. Moments ago, the MTA board approved a new fare hike for the metro area mass transit system, with a vote on toll hikes to come shortly. This is the fourth hike in five years. The motion was approved unanimously.
The base MetroCard fare just went up to $2.50, a quarter more per ride. The monthly fare costs $112 now, up from $104, and a weekly card rose a dollar to $30.
On the barely bright side, the bonus for buying in bulk now kicks in at $5, essentially a round trip ride, not $10. The bonus, however, has fine down to 5 percent from 7 percent.
There is also a new surcharge on some new MetroCards of $1, to try and cut down on litter and the expense if producing the cards. All cards, including weeklies and monthlies, will now be rechargeable.
Update (11:14 a.m.): The fare hikes will not take effect until March 2013, rather than January, thanks in part to cost savings at the MTA.
As board member Ira Greenberg pointed out, this fare hike of 7.5 percent may seem small, but in aggregate, the monthly MetroCard has gone up 32 percent since this series of fare hikes began in 2008, and the cost of a monthly railroad fare has gone up an equally drastic 21 percent. And it may not sound like much, but a $2.50 MetroCard is 25 percent more expensive over that period, when it cost $2.