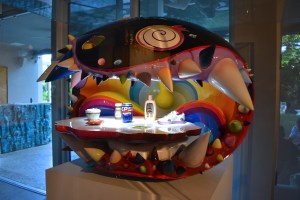 There are some things that you think you will never see in your lifetime, but then, during Art Basel Miami Beach, they appear right in front of you. That happened yesterday while visiting the M Building, where a handful of galleries, including Observer contributor Adam Lindemann's Venus Over Manhattan outfit, have set up shop during the fair.
Tucked in a room in back of the building, right next to its kitchen, is Simple Things (2008–09), the insane sculpture dreamed up a few years ago by Takashi Murakami, Pharrell Williams and Jacob the Jeweler. It debuted at the 2009 Miami Basel at Emmanuel Perrotin's booth, where it reportedly sold for around $2 million to a pair of collectors who planned to share it.
And here it is in Miami again, sitting on a white pedestal inside a clear standing case, at the side of the room, just a bauble like any other from a previous fair. The piece was brought to the fair by Perrotin. We were told it is not for sale.
So what exactly is Simple Things made out of? According to reports from 2009, its materials are "glass fiber, steel, acrylic, wood, LED and 7 objects made of gold (white, yellow and pink) set with rubies, sapphires, emeralds and diamonds." There's a small bottle of Heinz ketchup, a shoe by Mr. Williams's Billionaire Boys Club label, a little bag of Doritos and a cupcake—all iced out with jewels.
Mr. Williams, who's been popping up around the fair this year, told Bloomberg back in 2009: "It's made with 26,000 diamonds and gems….I wanted people to see the value of simple things with some of the staples of American culture."
It's the American version of Damien Hirst's For the Love of God (2009)—pop music and Pop art, smothered with jewels. Don't miss it.