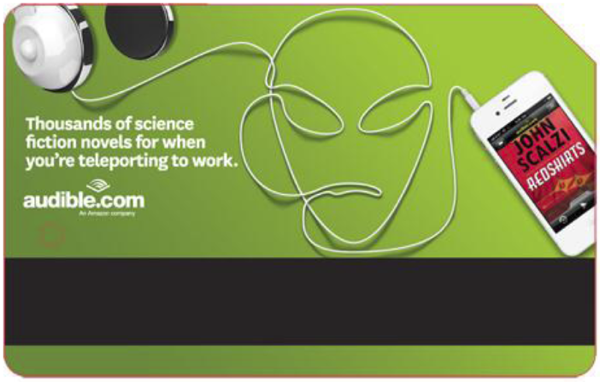 It now looks almost certain that the Metrocard is going up to $2.50 next week, with monthlies costing $112, up from $104, at least that is what MTA chief Joe Lhota is recommending in a letter he sent to the board yesterday [PDF]. But at least we will be getting a little something for that extra coin—free audiobooks.
The MTA announced today that it is continuing its front-of-Metrocard ad campaign, which kicked off in October with Metrocards bearing Gap ads on them. Those doubled as 15 percent-off coupons heralding the arrival of the budget clothier's new Herald Square flagship. Now, Audible will be taking up some prime MTA real estate with Metrocard ads, including a code for a free audiobook.
"We're very pleased by the continuing high level of interest that advertisers are showing toward the MetroCard as a medium for promotions," Paul Fleuranges, the MTA's Director of Corporate and Internal Communications, said in a release. "This confirms that our decision to re-launch the MetroCard advertising program this year was the right move."
Of course it is easy to get a free audiobook from Audible already, either from your favorite podcast to ads in magazines, but it does feel nice that your Metrocard might actually have some added value beyond getting you to work on time if you're lucky. Granted, you could probably just punch in the proffered URL, audible.com/NYSubway, and get a free audiobook without actually having to buy one of these Metrocards. It does not appear to require any special proof of purchase at this time.
The MTA also announced a new back-of Metrocard ad for mobile phone service Simple Mobile. Now that we can use our phones in more and more train stations, being able to pay $40 a month for unlimited calling could come in handy.