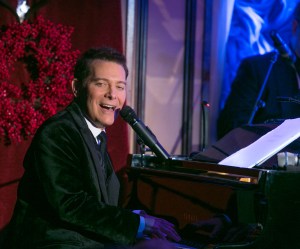 What are you doing New Year's Eve? The cultured and the wise will be punishing the parquet at Feinstein's at Loews Regency for the last time, saying goodbye forever to one of New York's most venerable cabaret kingdoms. Yes, it's one more nail in the coffin of the kind of sophisticated nightlife that used to be a staple of a musical stay-up-late crowd that now goes home to tweet and watch bad television. But Michael Feinstein, the swank supper club's namesake, is not going down with ears plugged and eyes closed. While scouting locations for a newer, better venue that he'll announce soon, he's been filling Feinstein's final days with an extraordinary lineup of superior talent—from the magnificent voice of Sue Raney to the tapping toes of Tommy Tune. Now the beat goes on through the month of December with the headliner's annual holiday show, dedicated to keeping the spirit and sound of the Great American Songbook alive.
Michael calls this one "A Gershwin Holiday," and he's not kidding. It's a holiday show in festive theory only—there isn't one Christmas song in it—but Gershwin revelers will still find plenty of peace on earth and goodwill toward men. It opens with five tunes sung by Nick Ziobro, a lanky, clean-cut winner of the Michael Feinstein Great American Songbook Initiative's 2012 High School Competition. Sixteen years old and crooning "Here's That Rainy Day" in tune, with dreamy phrasing and perfect pitch? Don't tell me the Great American Songbook is six feet under.
Then comes the indefatigable former saloon singer-turned-stand-up superstar himself. He loves the Gershwins and he's been singing their praises for years. This is the first time I've known him to devote an entire show to their genius. Besides, he didn't have to learn any new songs. He already knew them all. So we get a crowd-pleasing song cycle that runs the gamut of the Gershwin style, including swingers ("Strike Up the Band," "Swanee"), familiar ballads ("Embraceable You," "Isn't it a Pity"), and even a surprise or two—Mr. Feinstein as Porgy, essaying "Bess, Oh Where's My Bess?" is not something I was prepared for, but darned if he doesn't do it justice, while demonstrating how much he's expanded in range and vocal technique since he started singing for his supper in the old days of smoky piano bars on Hollywood Boulevard. From a raucous ragtime throwaway written when George Gershwin was 17 to a mellow "Who Cares?" there is something here to please everybody, marvelously served by a five-piece band conducted by ace arranger-pianist Alan Broadbent. Mr. Feinstein even finds the time and space to work in a medley of eight Fred Astaire songs expressly written for him and his sister Adele by his friends George and Ira in their halcyon days on Broadway. Except for the sad fact that the Gershwins, being nice Jewish boys, never wrote a single Christmas song in their lives (odd when you think about it, since almost every famous Christmas carol was written by Jews, including Irving Berlin's "White Christmas"), I can think of no better way to toast the most popular holiday than a concert by the most important composer of American music of all time. It's a great way to bid a fond adieu to an old cabaret institution and usher in a new Yuletide season.
Bring your own mistletoe.
rreed@observer.com