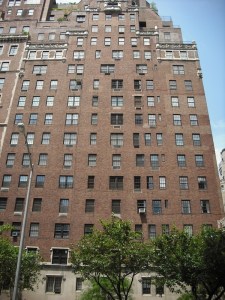 Psst… do you want to hear a secret? The whisper listing at 730 Park Avenue, a 12-room duplex penthouse with Central Park views, has sold to hedge fund titan Daniel Benton for a whopping $39 million, according to city records.
Mr. Benton, who recently re-opened his technology-based hedge fund Andor Capital Management, is apparently feeling financially confident enough to move up in the world. Literally. Mr. Benton and wife Anna currently own another 12-room duplex on a lower floor of the same building that they paid $21 million for back in 2007. We guess they were a shoo-in with the board?
Records show that the seller was Joann B. Walker, although they do not show what Ms. Walker paid for the apartment or when she bought it (apparently, before such things were a matter of public record).

We're not sure what the asking price for the building's penthouse was, but it didn't really matter, because we've heard that it set off a serious bidding war when it came on the market this spring.
The sale was handled by Sothebys brothers Meredyth Smith and Serena Boardman as well as a Stribling broker, whom the company, in an earlier Wall Street Journal article on the mysterious listing, declined to identify.
Ms. Smith, when reached for comment, confirmed that the sale had indeed closed.
"It is among the prettiest apartments that I've ever seen," said Ms. Smith. "It was a very, very beautiful listing."
Alas, there are no photos and Ms. Smith declined to provide more details, but the apartment is said to have (via The Journal) five terraces, including a wrap around and one on the maid's room, four bedrooms, a grand staircase, a solarium, a greenhouse breakfast room with a glass ceiling and a living room measuring 37 by 28 feet wide.
The sale is one of a string of successes for Ms. Smith and Ms. Boardman, who sold Teddy Fortsmann's apartment, also with a whisper listing and a bidding war, for $40 million this spring. This summer, the sale of their 740 Park listing followed, with ex-Goldman Partner Jonathan Sobel picking up the 15-room spread for $19 million.
We were beginning to think trophy hunting season was over! The 730 Park penthouse, while it falls $15 million short of the current co-op record set by David Geffen's new Fifth Avenue penthouse, appears to have set a building record. The next priciest listing is Mike Wallace's old duplex, listed for $20 million.
And one broker who had seen the apartment speculated that it could have fetched more had it been in a condo rather than a co-op with a stringent board approval process.
"If Russians could have bought the apartment, it would have sold for much, much more," said the broker.
kvelsey@observer.com