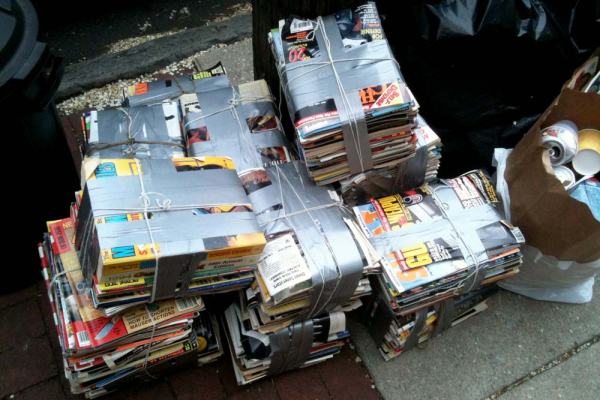 One mans trash is another mans treasure. A nice idiom, one my grandmother, a child of the Great Depression, liked to repeat.  She also liked, "waste not, want not." Keeping both in mind, she strove to throw out nothing, expecting, that it would one day become treasure again. Thus the stack of Life magazines from 1957 to 1960 currently propping up our dining room table.
In the modern data driven world, the idiom has changed. Now, it seems, one mans trash is another mans consumer trend index. At least for the Independent Budget Office (IBO), who released a report yesterday, compiling numbers from the Mayors Management Report showing that the amount of waste produced by New Yorkers has dropped progressively from it's high in 2004 of about 4 pounds a day per person to just under 3 pounds now.
But, why?
"We don't know for sure why," Doug Turetsky, told The Observer over the phone. "There are a number of different factors that people think. People are buying less, consuming less. Newspaper circulations are down. It wouldn't account for all of it.  But some piece of it. Newspapers have cut their size both literally and figuratively. Some products have changed, lighter plastic bottles for instance. There's just less trash in the waste stream."
So blame it on a perfect trash reducing storm, of a downed economy, new greener manufacturing methods and the death of the daily broadsheet. (For once, the declining fortunes of the publication you are now reading is doing the world some good.)
Still, 24,734,730 pounds a day is some serious weight. A mountain of a problem without a real solution yet. You could see if Jeremy Irons and Candida Brady, have found an answer in the new upcoming documentary Trashed. There's also the city, which has budgeted a study for next year to explore the actual composition of our collective waste. Or maybe, better yet, I can interest you in a pile of Life magazines that have, nearly 50 years later, really become treasure again.