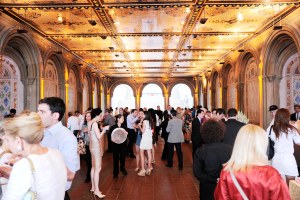 Last month, more than 700 tuxedoed and ball-gowned revelers gathered in the Museum of Natural History's Milstein Hall of Ocean Life for the annual S.L.E. Lupus Foundation gala. As the attendees feasted on black American caviar, Margaret Dowd, the foundation's executive director, was marveling at something else: the size of the crowd.
The foundation had not seen so many people at its annual gala since 2007. "It's been very tough the last few years, and we had to cut expenses drastically," she said. "In 2009, many of our donors said, 'Our portfolios were really harmed and we have to cut our donations, but we'll be back.' And they did come back. This year has been much, much better."
The benefit raised $2.5 million—a significant jump from the $2.2 million raised at last year's. Things have not returned to the 2007 level, when the gala's $3.2 million haul set a national record, which has yet to be topped, for lupus research funds collected at a single event, but the foundation is on track to raise 10 to 12 percent more this year than the previous one. Ms. Dowd added that the nonprofit's spring luncheon saw such a dramatic spike in attendance this year—a 30 percent increase—that next year they plan to hold it in the Plaza.
In the months after Lehman Brothers collapsed, when it looked like the country's financial system might fall along with it, the city's nonprofits, long buoyed by Wall Street successes, learned that they would also share in its misfortunes. Staffs were sheared, budgets slashed, plans delayed, visions clouded. Charitable giving fell by 15.2 percent in 2008 and 2009, according to Giving USA, the annual tally of American philanthropy.
During the depths of the recession, flashy parties, even if they were for a good cause, could seem a little déclassé. Making a show of how much money one had to give away called attention to one's ridiculously good fortune, even though the recession left nonprofits more in need than they ever had been before.
"We have donors who, like many others in New York, are so wealthy that if they never saw another nickel of earned income it wouldn't matter. They have more than they could ever spend," said the head of a nonprofit who asked not to be identified. "For the people who really have the means, what you really want is for those people to give more and not less in tough economic times. And yet they were cutting back."
From 2007 to 2009, giving by people with incomes of $200,000 or more dropped by $31 billion. Now, for the first time since the recession struck, a number of New York nonprofits say that 2012 looks like the year when the tide has finally turned. Gifts are more generous, long-dormant donors are reappearing and philanthropists are once again crowding cheek-by-jowl at charity galas, dining and dancing with checkbooks in hand.
On Monday afternoon, New York real estate billionaire Mort Zuckerman announced a $200 million gift to Columbia University to study brain behavior. The gift is twice the size of the $100 million donation that hedge fund billionaire John A. Paulson made to the Central Park Conservancy this October—the largest ever to a New York City park. The previous record had been set just a few months before, in April, when amateur track cyclist Joshua P. Rechnitz pledged $40 million to Brooklyn Bridge Park to fund a field house and a velodrome with seating for 1,200 spectators. But even in April, $40 million paled in comparison to the $60 million gift David Koch made in February to redo the Metropolitan Museum of Art's Fifth Avenue plaza.
The Central Park Conservancy was already on the path to one of its best years in a long time. Not only have smaller donations grown in 2012, but so has the pool of people making them; like many agencies, the conservancy has been recruiting younger philanthropists via social media and special events.
Conservancy spokesperson Dena Libner called 2012 a "strong year," but, like virtually all the other nonprofits we spoke with for this story, she warned that the official tally would have to wait until 2013. Typically, the last few weeks of the year are among the busiest in the fund-raising world, with many racking up 25 to 30 percent of all annual funding during the holidays.