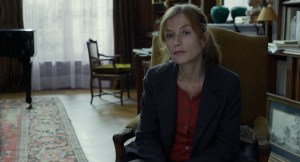 It's always reassuring to see a nutty director go straight. Austria's Michael Haneke is famous for his lurid, violent and thoroughly sick exercises in torture and sexual depravity. Wait a sec. Did I say famous? Only to the occasional film festival audience. The public has avoided him like a dose of swine flu. Who sat through a pair of homicidal maniacs slicing and dicing up a family in their summer vacation home on a deserted lake in Funny Games, a film he loved so much he made it twice? Or the sight of Isabelle Huppert in La Pianiste, making love to her mother before slicing off her own genitals with a razor blade? No, I'm afraid Mr. Haneke's career has thus far existed only in the "asylum home movies" department.
All of that is about to change. Amour has set the critics drooling, this time for the right reasons. Beautifully acted, sensitively written and uncommonly refined, this delicate portrait of an elderly couple struggling with fate, mortality and immortal devotion breathes clarity and passion into the verboten subject of old age without the usual attendant sentimental soap opera clichés. This is due, in a large part, to the vibrant talents of two beloved veterans of classic French cinema—Jean-Louis Trintignant (memorable in Bertolucci's The Conformist,among others) and the incandescent Emmanuelle Riva (of Resnais's Hiroshima, mon amour). Probably neither of them ever thought they would live to see the day when their hair was gone and the apple wouldn't bite. I'm so glad they hung in there. They're worth waiting for.
They play Anne and Georges, a pair of octogenarian musicians who have been married for decades, their careers largely behind them but their future together in old age cloudless and optimistic. One night, they return home from a concert to find their apartment robbed and their privacy invaded. Anne is so unnerved by the intrusion that the next morning she suffers a small stroke that turns out to be the beginning of a physical and mental decline. Paralyzed and confined to a wheelchair, she succumbs to her illness while Georges attempts to care for her at home. Each day presents a new challenge, as they deal with the evolution of senior surrender—immobility, dementia, incontinence. But no matter what cards they are dealt by the devils who nurse our universe, they cling to a love that might even resist death. The daily events in their lives are dramatized indirectly, not in bold strokes. The details of everything that defines them—from the furnishings that make their apartment as familiar as an old sweater to their passive relationship with their daughter (Haneke alumna Isabelle Huppert, in a guest appearance without razor blades)—carry out the director's theme: that life is not about the big issues, but the sum total of the little things, like what we saved in the attic and the brand of cereal we ate for breakfast. The scenes, like the performances, are meted out quietly, in small, languid sips. Mr. Haneke's screenplay, like his controlled direction, is lucid, without obvious overstatement. The performances are a miracle, as much about the aging of the two stars as the characters they play. Ms. Riva and Mr. Trintignant are fearless, hiding nothing from the camera. It's a triumph of subtlety one doesn't often see within today's fast pace. As Anne slips sadly away, her private world turns intimate and remote. But love remains, even in the final resolution.
Old age affects us all, but at the movies it's a subject that defies commercial success. So I have doubts about the box office future of Amour, but no reservations about its compassion and artistry. Even if it moves you to tears, the intelligence and humanity you will experience are worth the emotional stress. That doesn't mean I want to see a lot of films about Alzheimer's or that I will even like Michael Haneke's next film. But don't let Amour join the legion of "Best Films You Never Saw." I urge you to share its sweetness and wisdom, and learn something.
rreed@observer.com
AMOUR
Running Time 127 minutes
Written and Directed by Michael Haneke
Starring Jean-Louis Trintignant, Emmanuelle Riva and Isabelle Huppert