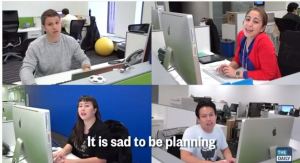 The Daily, Rupert Murdoch's iPad newspaper, is shutting down tomorrow. And how better to say goodbye than with a song from everyone's favorite musical about a nun and a strict captain fleeing the Nazis?
For their final installment of "Karaoke the News," a segment in which songs are rewritten to reflect the week's events, The Daily's staff rewrote the lyrics to "So Long, Farewell" from The Sound of Music to say so long and farewell to subscribers. Some of the 120-person, soon-to-be-laid-off staff take turns waving goodbye to the camera–including cameos from the former EIC (and new publisher of the Post ) Jesse Angelo, Publisher Greg Clayman, Senior Vice President John Kilpatrick and Managing Editor (and soon to be editor of Esquire digital) Mike Nizza..
We admire their musical abilities and their pep. Other publications we can think of would be more apt to bid adieu by smoking cigarettes and complaining.