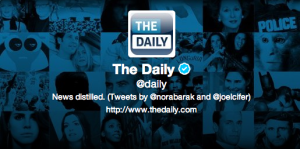 The Daily, Rupert Murdoch's foray into iPad-only journalism, officially shut its virtual newsstand last Saturday. But The Daily's Twitter feed is still going strong, despite a lack of original content. @Daily (not to be confused with the handle @TheDaily, which belongs to the University of Washington's student newspaper) continues to provide "news distilled," as the Twitter bio says. In this case, the distillation of the news is in the form of links to interesting stories by other publications.  
"The Social Media team from The Daily has joined the Post and they're managing both accounts," a spokesperson explained. "The Daily has an active social media presence and intends to continue to engage their followers and fans." The shuttered newspaper's feed currently has 99,074 followers. According to the account's Twitter bio, Daily social media managers Nora Barak and Joel Pavelski are responsible for the feed.
So far, there doesn't seem to be much crossover between The Daily's Twitter feed and the Post's. Since The Daily's virtual presses stopped last weekend, the News Corp. property has tweeted out only three stories from the Post. Other links have been to stories in The Nation, The Atlantic, BuzzFeed, Flavorpill, Gawker, Mother Jones and The New York Times, among others.
We guess this means The Daily will live on as both a memory and a Twitter feed.