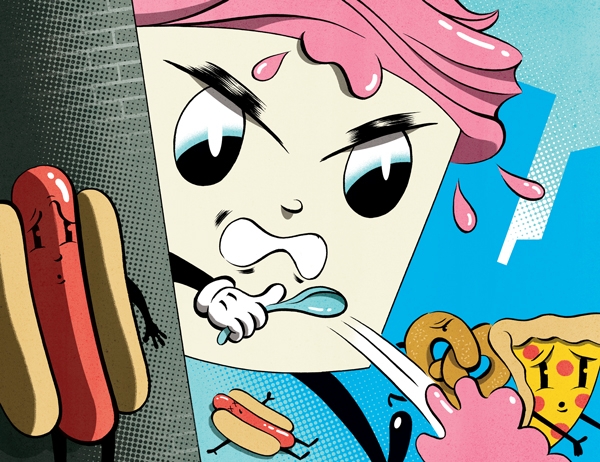 I'd been noticing them for some time, of course, the way you might notice a nimbus of fruit flies hovering above a bowl of browning bananas, or the tinny music leaking out of someone's earphones on the subway: a vague, essentially harmless annoyance rasping at the outer edges of consciousness.
It was not until one day in Union Square that I realized, in a moment of disquieting clarity, that frozen yogurt shops were everywhere. A Joyride frozen yogurt truck idled by the park, Diet Lite Ice Cream was visible just down 17th Street, and a Yelp search revealed that a Pinkberry, a Tasti D-Lite, a Red Mango, a 16 Handles, a Yoqua Bar and a Yogurberry were all within a five to 10 minute walk. None of which were deemed satisfactory by the friend at my side, who urged us on toward Flavaboom on Sixth Avenue, where one could get the nonfat flavors twisted together and heaped with cheesecake bites and cookie dough.
Nearly skipping with anticipation, she raved about frozen yogurt the whole way there. It was alarming. How could she be so into frozen yogurt? I wondered. How could anyone? This was a dessert, after all, that oozed out of self-serve machines. It was served in a tub. Like margarine. It was nicknamed fro-yo.
I've always found frozen yogurt deeply underwhelming, and the so-called ambrosia at Flavaboom was no exception. Despite being tangier and admittedly tastier than the cafeteria varieties that I last remembered eating, this frozen yogurt was still, when you got right down to it, frozen yogurt. It was not ice cream, a shortcoming that all the candy toppings in the world couldn't disguise. The most remarkable thing about the substance was that, like advertising, it stimulated desires that it could not sate. Its center, thanks to the humming machines that converted the dairy mixture into a pliable glop swirling into my 16-ounce cardboard tub, was literally hollow.
The experience left me with an icy feeling in the pit of my stomach, one that intensified as I saw the extent to which these establishments had colonized the entire island of Manhattan and claimed large chunks of the boroughs. There are multitudes: Yogurtland, Yogurt Station, Yorganic, Crazy Bananas, Off the Wall, Yogurt Culture, Strawberry Fields, Yogorino, Victory Garden, Forty Carrots, Village Yogurt, Phileo Yogurt, Berrywild, Lorax Frozen Yogurt, The Lite Choice, Chill Berry, Yogurt City, YoGo Yogurt Truck and Yogo Swirl. Even the Duane Reade on Wall Street is selling tropical-flavored yogurt at its UpMarket FroYo Bar. And of course, there are the indefatigable national chains: the Pinkberrys, the Red Mangos, the 16 Handles.
The Village seems to be the hardest-hit, its streets a fluorescent wasteland of yogurt shops: eight by our count with another on the way. "There's been a veritable war in the Village," Douglas Elliman's retail queen Faith Hope Consolo remarked. "It's the fastest growing franchise in the country."
Frozen yogurt tends to have a very high profit margin (like coffee), she added, which means it's an easy business to make a buck on in most cities except New York, where retail rents have soared. It may not be as profitable as some speculators hope, given the general rule of thumb that a business's rent should be no more than 15 percent of sales. Consider, then, that Spanish frozen yogurt shop Yooglers, which plans to open a Greenwich Village flagship imminently, is paying approximately $15,000 a month for a 1,500-square-foot space, which means the chain will need to pull in about $100,000 a month in sales. That's a lot of yogurt cups. Having seen a similar invasion in the 1980s, Ms. Consolo expects that we will see a Darwinian culling of the herd. But probably not today or tomorrow. For tomorrow always seems to bring news of yet more yogurt bars.
Yooglers, for example, is scheming to open not only its pricey flagship at 791 Broadway Avenue, but also eight more family-friendly locations in Manhattan by the end of the year (part of an international expansion plan to reach "all corners of the world" in the next 10 years). The interiors renderings suggest that Yooglers, striving to draw out each patron's "inner child" will still have all the classic hallmarks of the modern frozen yogurt joint: a gratingly bright color scheme accented by hard plastic furniture that calls to mind a food court from 2030.
The D.C. chain Sweetgreen is invading from the South, and Let's YO!, a New Jersey company backed by the founder of Retro Fitness, is planning 60 stores in NYC and Long Island, where Red Mango is welcoming its 47th franchise. In a release, the new owner, who also owns a tanning salon and printing business, crowed about how excited he was to "add Red Mango to his concepts." And who wouldn't be excited, when each four-ounce serving is "around 100 calories of pure satisfaction packed with probiotics?" Especially probiotics like GanedenBC30®?
Some of these new yogurt bars aren't even frozen—Dannon debuted a regular yogurt bar in Midtown this summer, and Chobani opened its Greek yogurt bar soon after in Soho. Pinkberry is considering adding nonfrozen varieties as well, to tap into what UBS Investment Research called "the fastest-growing food segment in history, with two times the growth of energy drinks."
Even more horrifying: this trend may not stop with humans. Inspired by her Afghan hound's love of ice cream, an Upper West Side woman is planning to open a frozen yogurt truck for dogs. Yappy Treats will have 17 flavors of handcrafted, organic frozen yogurt priced between $2 and $2.50 a tub.