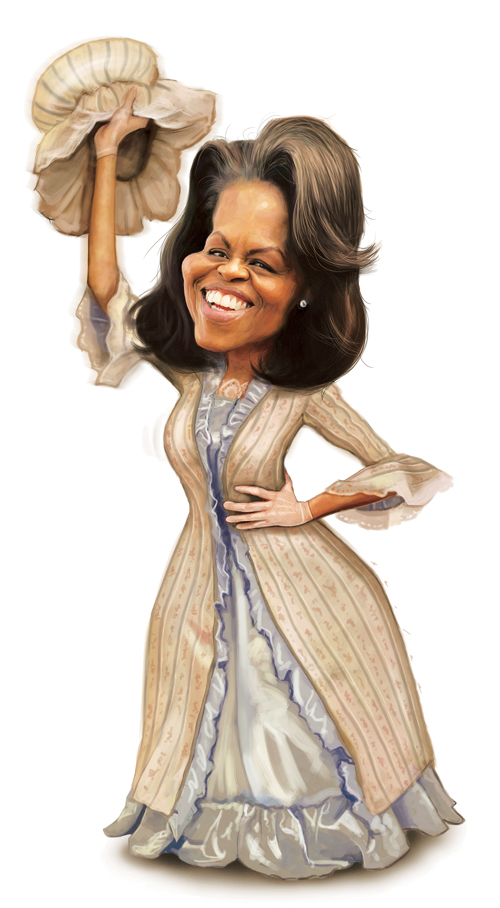 Amid all the speculation about Barack Obama's newfound mojo, a hotly anticipated stiffening of his political spine inspired by his decisive victory in November, a somewhat more intriguing question has scarcely been asked.
Will Michelle finally step out?
The Harvard-trained attorney has always been, for those on the right, a more threatening character than her husband. After all, Mr. Obama merely received that famous fist bump—or as Fox News had it, "terrorist fist jab"—in the moments before delivering his speech at the Democratic National Convention; Michelle initiated it. It was she who revealed that the future president woke up "snore-y and stinky" in the morning, part of the campaign's aggressive bid to humanize him that had the side effect of further elevating her (After all, if America's demigod wakes up less than perfect, what would she think of us?) And it was Michelle who included a line about how the nation is "just downright mean" and "guided by fear"—in her 2008 stump speech—and once notoriously allowed that she was "for the first time in my adult lifetime … really proud of my country." And, of course, it was Michelle who finally extended the right to "bare arms" to political spouses and, as the Times Style section put it, "spurred an epidemic of sleevelessness."
My goodness, the guns on that woman!
Whether the infamous "whitey" video—a Holy Grail of the right, in which Michelle is said to employ the dated epithet—ever existed at all outside the fever dreams of dirty trickster Roger Stone Jr. (which it almost definitely did not), the first lady has worked hard to dispel our fears. Over the last four years, the perceived Angela Davis-style radical has been replaced by a smoothly competent political professional, whose causes seem more Lady Bird Johnson than Hillary Rodham Clinton.
Not that there haven't been a few missteps: wearing Lanvin sneakers to a food bank, eating Shake Shack (albeit in moderation) despite her healthy-food exhortations and hugging Queen Elizabeth. In general, though, Ms. Obama has been a notably careful FLOTUS, campaigning for exercise (what could be less controversial than that?) and embodying the role of wholesome mom-in-chief. Far from reinventing the job of first lady, the first black woman to set up house in the East Wing has turned out to be something of a traditionalist. At least so far. Now, with the exigencies of a second presidential campaign behind her, some are hoping Ms. Obama will finally let her freak flag—whatever that might look like—fly.
"There's this sense that the real Michelle Obama, this endearingly frank woman we met in the spring of 2008, is going to come back to the fore," noted New York Times reporter Jodi Kantor. "I think any change in her during the presidency is going to be one of degree. The real change is going to be in the post-presidency. Once she's out of the White House and her husband will no longer hold office, she truly will be liberated. She will still be a young woman, and she'll be one of the most famous and influential women in the world."
"For first ladies, I do think second terms tend to be a bit more interesting," said Daily Beast fashion writer Robin Givhan, whose beat is the intersection of style and politics and who has often written about Michelle. "It was in the second term when Laura Bush spoke out about Burma. So I will be intrigued to see if Mrs. Obama decides that she's going to add a third leg to her platform, which now is divided between the support of military personnel and the Let's Move campaign."
While Ms. Givhan declined to speculate as to what that third project might be, conservatives are plainly terrified. As a piece on Right Side News ominously put it, "Much like Hillary, she will be assigned more involvement in affairs of state, appointed to committees, and public appearances of a political nature will become more frequent, not to speak of a barrage of friendly television repartee on shows like The View, late night talk, and more. In essence, the grooming will begin."
Blame Ms. Clinton for the lofty expectations: the former first lady-turned-well-liked senator-turned-presidential candidate-turned-secretary of state-turned-beloved Internet meme is the new paradigm for first ladies. (Even Laura Bush, the very picture of a traditional political spouse, went on an extensive book tour in 2010, during which she spoke out on her policy differences from her husband. Turns out she's pro-gay marriage and supports Roe v. Wade!)