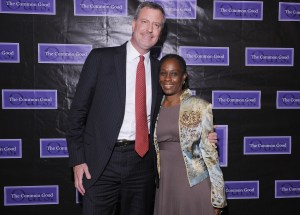 Public Advocate Bill de Blasio, an all-but-officially announced mayoral hopeful, has prominently featured his wife Chirlane McCray in his campaign literature and on his web site. Despite Ms. McCray's front-and-center role in his campaign, for which she also serves as an unpaid advisor, one aspect of her life has thus far remained out of the public eye.
Prior to meeting Mr. de Blasio, Ms. McCray identified as a lesbian and had several long-term relationships with other women. In a seven-page essay she wrote for the September 1979 issue of Essence magazine entitled "I am a Lesbian" she frankly discussed her sexuality and expressed gratitude that she came to terms with her preference for women before marrying a man.
"I survived the tears, the isolation and the feeling that something was terribly wrong with me for loving another woman" Ms. McCray wrote. "Coming to terms with my life as a lesbian has been easier for me than it has been for many. Since I don't look or dress like the typical bulldagger, I have a choice as to whether my sexual preference is known."
She added, "I have also been fortunate because I discovered my preference for women early, before getting locked into a traditional marriage and having children."

Today, Ms. McCray is very much inside of a traditional marriage with children. She and her husband met at City Hall in 1991 while she was working as a speechwriter for former Mayor David Dinkins and Mr. de Blasio was the mayor's assistant for community affairs. The pair were married in 1994 at a ceremony in Prospect Park that included a gay, interracial, interdenominational pair of ministers, an Italian folk band and African drummers. Since then, Ms. McCray has had two children with Mr. de Blasio and, in her words, spent "almost 20 years of living with a campaign in my house."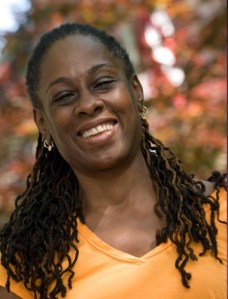 Before entering the political realm, Ms. McCray spent more than a decade working as an editor, magazine writer and poet. In her essay for Essence, she was identified as a  24-year-old "free-lance writer" and "former editorial assistant at Redbook." At the time she published her "I am a Lesbian" article, which was featured on the magazine's front cover with the tagline "BEYOND FEAR—Lesbian Speaks!," Ms. McCray was also a member of the Combahee River Collective, a landmark group of black, feminist lesbians that was active from 1974 until 1980. One of her most famous poems created while she was a part of the group references having a female "lover."
The biography of Ms. McCray on her husband's campaign website notes her affiliation with the Combahee River Collective, however it omits any mention of the group's lesbian roots and simply refers to it as "a pioneering black feminist collective."
Though Mr. de Blasio and Ms. McCray are outspoken supporters of gay rights, the couple has not discussed her past publicly. Last June, after New York legalized same-sex marriage, Mr. de Blasio and Ms. McCray co-authored a piece for GO! magazine praising marriage equality and reflecting on their own position as an interracial couple. In the article, they discuss their own marriage and describe having "gay and lesbian friends and family members," but make no mention of Ms. McCray's former identification as a lesbian.
"We both believe passionately in the rights of our gay and lesbian friends and family members," they wrote. "But on a more personal level, we are deeply conscious that there was a time not long ago when our own marriage would have been impossible in much of the country."
Ms. McCray's Essence essay describes several women she met during her college years at Wellesley and the Radcliffe Publishing Course who were unwilling to be open about their sexuality including one who avoided "relationships with women" because she "intended to have a political career."
"I realized that it takes a certain courage and strength to be visible," Ms. McCray wrote.
As of this writing. neither Ms. McCray or Mr. de Blasio's campaign has responded to multiple requests for comment on this story.
Update (4:32 p.m.): Through a campaign spokesperson Ms. McCray told Capital New York's Azi Paybarah: "In the 1970's, I identified as a lesbian and wrote about it. In 1991, I met the love of my life, married him."
It is unclear how she transitioned from a self-described lesbian who was confident that she "had always been more attracted to women, both emotionally and physically, than to men" to a political wife in a heterosexual marriage.
In Essence, Ms. McCray wrote about how she met her first female lover, whom she identified only as "Sharon," at freshman orientation at Wellesley.
"She made me grin when suddenly, unexpectedly, she leaned over and whispered. 'Don't you wish we had a joint?'" Ms. McCray wrote.
Four months after meeting at orientation, Sharon and Ms. McCray "found ourselves in one another's arms, admitting for the first time our love for each other."
"I was ecstatic. There was the joy of waking to her whispers and the soft warmth of her woman's touch," wrote Ms. McCray. "Beyond that was the joy of discovery, of watching a new part of me unfolding. It was like a second birth."
Sharon and Ms. McCray soon moved in together in the dormitories.
"We were very sure that we loved women and preferred them as lovers," she wrote.
Ms. McCray eventually parted ways with Sharon. Her story describes two other long-term relationships she had with other woman. At its conclusion, she wrote that she was dating someone named Candice who she had been with "two and a half years" and she described as "the woman with whom I am living and with whom I hope to spend my life."
Clearly, in life, as in politics, even the best-laid plans can change.
View a scanned copy of Ms. McCray's article below:
"I am a Lesbian" by, Chirlane McCray — Essence Magazine (September 1979)[protected-iframe id="c1fa607f2166a77ede98a9947900a821-35584880-169951245″ info="http://www.scribd.com/embeds/115665122/content?start_page=1&view_mode=scroll&access_key=key-2ff5bjwhd7xrd0d4opwp" width="100%" height="600″ frameborder="0″ class="scribd_iframe_embed" scrolling="no"]
(Updated 4:10 p.m. with a copy of Ms. McCray's article.)