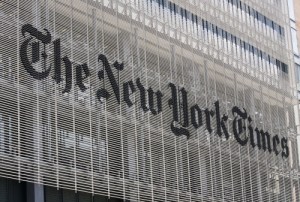 It is shaping up to be a dark day in newspapers, and it isn't even ten yet. The New York Times is looking to reduce their newsroom costs by offering buyouts.
"The economic environment has grown more difficult in the second half of the year and I must reduce costs in the newsroom. While Dean, John, Bill, Janet and I are looking at spending on everything from leases to bureau expenses, there is no getting around the hard news that the size of the newsroom staff must be reduced," executive editor Jill Abramson wrote in a note to the staff. "I hope the needed savings can be achieved through voluntary buyouts but if not, I will be forced to go to layoffs among the excluded staff.  I expect that I will have to reduce the excluded staff by about 30 positions."
"As we all know, these are financially challenging times. While our digital subscription plan has been successful, the advertising climate remains volatile and we don't see this changing in the near future," Publisher Arthur Sulzberger wrote, in an email to staff sent out this morning. "Given this, I have asked Scott, Jill and Andy to identify significant cost savings – including buyouts – throughout The New York Times Media Group."
Full memos below.
From Jill Abramson:
Colleagues,

The economic environment has grown more difficult in the second half of the year and I must reduce costs in the newsroom. While Dean, John, Bill, Janet and I are looking at spending on everything from leases to bureau expenses, there is no getting around the hard news that the size of the newsroom staff must be reduced.

In the next few days, all excluded employees will receive a buyout package.  If you are an excluded employee, please read through the packet carefully and consider whether accepting a voluntary severance package at this time in your life makes sense.

I hope the needed savings can be achieved through voluntary buyouts but if not, I will be forced to go to layoffs among the excluded staff.  I expect that I will have to reduce the excluded staff by about 30 positions.

The Newspaper Guild has asked that we offer Guild employees the opportunity to apply for buyouts. We have agreed to do so.  I will be sending all Guild employees a letter outlining the steps to take to be considered for a voluntary buyout.

You and I have been through this process together before and know that it is painful. Over the past several years, our colleagues on the business side have seen their numbers reduced by more than 60 percent. While we have had reductions too, including a round of buyouts and layoffs that claimed 100 jobs in 2008, the newsroom has been spared the worst of it. The strategic hires we have made targeted largely at bringing more depth and breadth to our digital bench have given us a newsroom today that is roughly the same size as the newsroom was in 2003.

We will continue to invest in our journalism, to retool and rethink the conventional newsroom structure so that we are able to expand our multimedia story telling across the globe.

I look forward to talking with you about these efforts and my strategy for the newsroom going forward at the next Grill Jill session on Dec. 20.

Because of the ambitions and standards of excellence all of you bring to our enterprise, I am certain we will weather our current challenges.

Please reach out to me, Dean, John, Bill or Janet if you have any questions.

Jill
From Arthur Sulzberger:
Dear Colleagues,

As we all know, these are financially challenging times. While our digital subscription plan has been successful, the advertising climate remains volatile and we don't see this changing in the near future.  Given this, I have asked Scott, Jill and Andy to identify significant cost savings – including buyouts – throughout The New York Times Media Group.

While we will continue to invest where needed to ensure our role as a global leader in news and information, we must make some difficult decisions to lower our costs. Our business-side colleagues will continue their efforts to find staff reductions and other efficiencies, but it is now impossible not to look also within the ranks of our news operations.

None of this is easy in these difficult times. Thank you all for your courage, your talent and your commitment to fulfilling our mission. You will be hearing more from your managers.

Sincerely,

Arthur