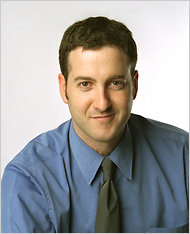 Albany bureau chief Danny Hakim will leave the state capital for London, where he will take over as the European economic correspondent.
"After two plum assignments – in Detroit and Albany – Danny Hakim is taking a turn at a hardship posting, as Business Day's European economic correspondent based in London,"said an email that went out to staff earlier today. The move was first reported by Talking Biz News.
"Yes, we realize that Danny will have a difficult time knowing what to do for culture and entertainment in London, but he has proven to be a resourceful and enterprising reporter, so we're confident he will figure it out."
Before going to Albany 2005, Mr. Hakim was the Times' Detroit bureau chief and covered investing for the paper. Mr. Hakim became the Albany bureau chief in 2007.
During his time in Albany, Mr. Hakim covered a total of four governors, which he noted in the staff email is probably a record for the paper of record.
"Of course, one of the main reasons he covered so many governors is that he uncovered the transgressions of two of them," the memo went on to say.
Mr. Hakim broke stories that led to Eliot Spitzer's resignation and that led to David Paterson dropping out of the 2010 gubernatorial race.
Fortunately, London has no shortage of scandals to keep Mr. Hakim busy.