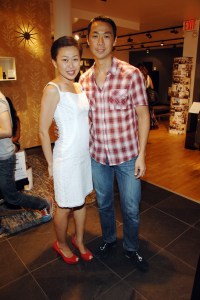 The first time The Observer met Niki and Shaokao Cheng, it was July, during the opening night of Julio Gaggia's art show. Mr. Gaggia, the boyfriend of the plastic surgeon Mark Warfel, was preparing his work "Living Art: Chelsea Boy Apartment," during which he would live for five days as a window display model at the BoConcept furniture store on West 18th Street. He spent the week eating, sleeping, working—and performing other, less-mentionable activities—in a showroom that divided him from gawkers outside with a pane of glass.
While we lounged about on the display furniture, socialite photographer Patrick McMullan brought over a petite woman with short, pixie-cropped hair.
"Niki is one of the few Power Asians in New York society," he loudly whispered, flourishing Ms. Cheng before us. She smiled shyly and posed for a photograph before excusing herself.
It would be two weeks before we realized that Ms. Cheng and her husband owned the store where we had dropped more than one canapé between the cushions of a $3,000 couch.
In fact, the couple owns all five locations of the Danish furniture store in New York City, and another two in New Jersey. But the stores themselves aren't the reason Mr. McMullan calls the Chengs "Power Asians." Rather, it's the couple's seemingly innate social instincts, their ability to leverage a fairly cookie-cutter, mid-market design base into a celebrity-filled social whirl. One might say "Only in America," or (even worse) "Only in New York," but this wouldn't exactly cover it. There is a certain type that thrives in Manhattan no matter what they're selling, no matter where they're from, no matter how few resources they have upon arriving.

If Darwin were alive today and researching the survival of New York species, he would do well to study the Chengs. They're not social climbers, per se, but social movers—Gladwellian "connectors" who know everyone from celebrities to the guys with the best drapes in the city. They share their knowledge strategically with other key additions to their ever-expanding Rolodex. For Niki Cheng, 39, and Shaokao Cheng, 41, life is not about climbing a ladder. It's about traversing the monkey bars that crisscross Manhattan.
"Niki and Shaokao have a wonderfully progressive view of New York society," said Village Voice scribe Michael Musto. "They mix into their social circle drag performers, club holdouts, top celebrities and the corporate crowd. It's all-inclusive."
Last Friday, we met Ms. Cheng for a second time—again at the Chelsea store. While we were there, actress Faye Dunaway came in and had what one could only call a fit of method acting for a sequel to Mommie Dearest. The recently evicted Academy Award winner had come in two weeks ago and bought a piece of art from the store, and now she wanted Ms. Cheng's help on a new design project.
"I adore this store. I've raved about it; they really need to get some of this stuff to London," Ms. Dunaway told The Observer. "They don't have anything like it there now."
Unable to find a confidentiality agreement for us to sign, she stormed out shortly thereafter. (We didn't get to tell her that there are actually 13 BoConcept stores in the U.K.) It was the kind of scene that no one wants a reporter to witness while writing a profile, but if there was any bad blood, Ms. Cheng didn't show it.
"Really, don't be upset," she told The Observer, rubbing our arm soothingly. "She'll call back. Anyway, where were we?"
The Chengs are adept at pleasing their celebrity clients, a skill that has come in handy while designing P. Diddy's home, Jay-Z's office (bed included), Mary J. Blige's entire apartment and Estelle's closet. Susan Sarandon, Lil' Kim and Patti LaBelle have also used the duo's interior design services, and Ms. LaBelle sang at the BoConcept flagship store for a Lance Armstrong benefit. They count designers Vivienne Tam, Asher Levine and Zang Toi among their closest friends.
Not that everyone in their circle is a brand name. After Ms. Dunaway left, we rushed over to Astor Place, where BoConcept was sponsoring a tent for a Christmas tree stand run by a Brit named Marco Romero, his girlfriend and his brother. Though he runs a jewelry shop in Greece most of the year, Mr. Romero spends three weeks in December living out of a van selling holiday firs, and Ms. Cheng took it upon herself to decorate the tent that the trio takes shifts in.
Despite a franchise that traffics mainly in large-scale items, Ms. Cheng has a burgeoning obsession with "micro-units"—apartments that are between 250 and 300 square feet.
She wanted to prove that it was possible to use BoConcept furniture to decorate a very small space, and the Romeros provided her with an interesting challenge. Their tent was about seven feet long and seven wide, and the guys had to hunch over even when standing at its tallest point. Empty, the space seemed minuscule. But after Ms. Cheng put down an orange rug, a short shelving unit, an ottoman, a table and two chairs (as well as several well-placed decorative objects), the tent looked like a living room on the Lower East Side.
It's never quite clear why Ms. Cheng decided to treat Romero and his tent like VIPs, but when it was revealed that a $3,000 lamp from the store broke on the ride over, Ms. Cheng gasped, then turned to Mr. Romero. "We'll have to get you another one."